I've decided in our homeschool, we're going to do a bird study unit every year. Winter is a wonderful time to study birds, since we can watch them from our windows even on days we might feel stuck indoors. Every year we can expand our knowledge and understanding of birds and "spiral up" through our learning. Last year's bird study unit focused mainly on bird identification and bird watching. This year, we added bird migration, bird nesting, and identified even more of our backyard birds! Here's the lesson plans and printables for a homeschool bird study unit!
Sponsored post. Affiliate links have been used; I may receive a small commission on purchases through these links.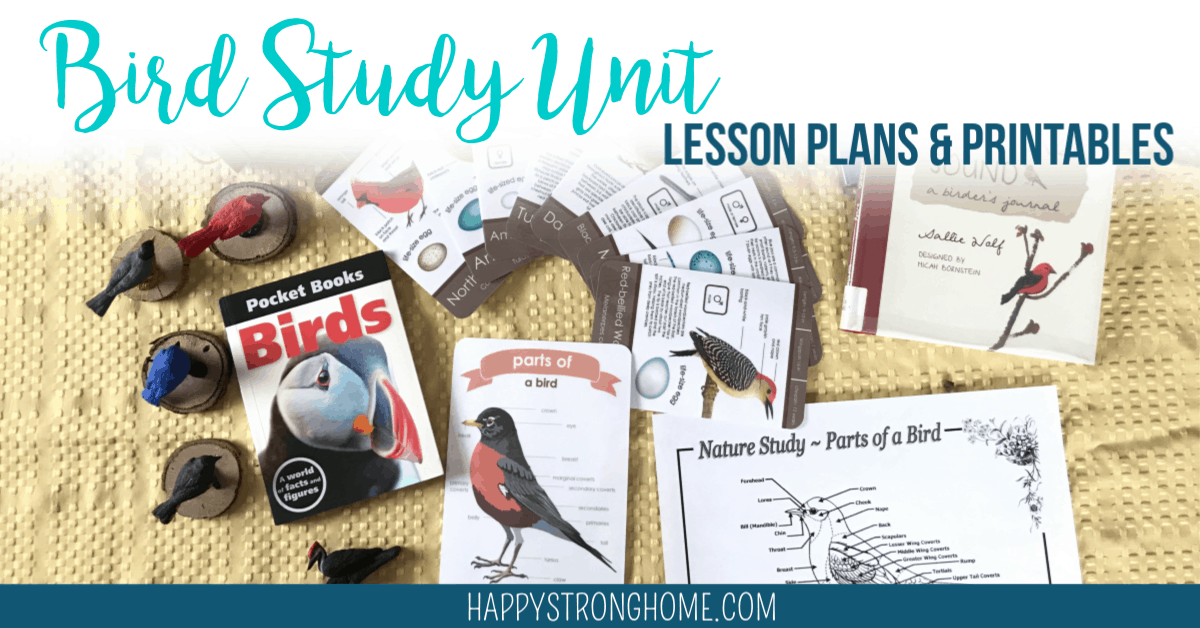 Our Bird Study Unit Lesson Plans & Printables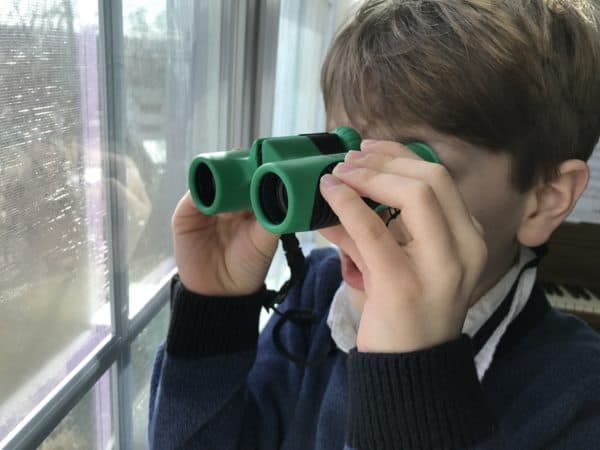 Our weekly plan followed this routine:
Bird watching
More than anything else, I want to teach our boys how to engage quietly with nature. Bird watching provides just the right amount of visual stimuli and action, while also "rewarding" kids for learning to sit quietly and be patient. My boys quickly learned not to rush screaming to the window every time a bird appeared. Now they know to slowly and quietly approach the window so they won't scare the birds away. It'll be a valuable skill I hope follows them into our spring and summer nature hikes! (and yes, I'm still a wimp about winter nature walks – NEXT year! ha!).
We set up our Wild Birds Unlimited bird feeders outside our kitchen window, and some in the front yard just beyond the window. This way we could see the birds while seated, and also while standing at the window. Having multiple feeders also allowed us to offer a variety of foods and nutrients for our bird friends in the winter. We kept a box with our Think Peak binoculars, Tanglewood Hollow bird cards, and a bird ID book handy. Plus our printable bird tracking sheet.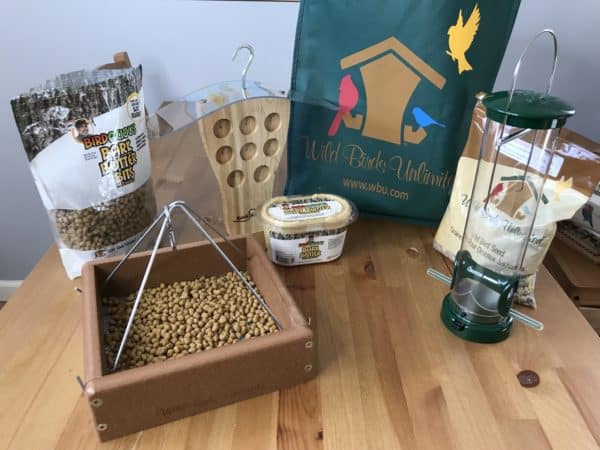 Read Aloud
I kept our morning basket stocked with a half dozen books per week on various bird themes:
Bird identification
Bird migration
Bird nesting habits
Bird anatomy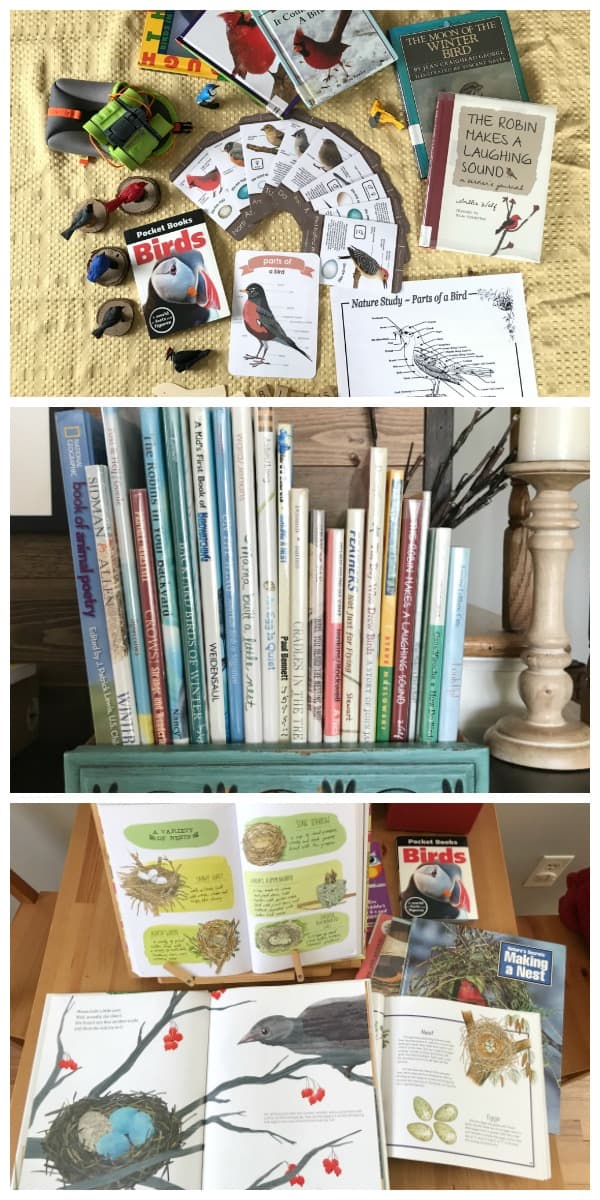 Bible Memory
We took Matthew 6:26 as our core unit verse and read this in our morning time.
Hymn Study
Even though we had a different Hymn of the Month from our Happy Hymnody study, we also added in His Eye is on the Sparrow during this unit.
Language Arts
Using NotebookingPages.com copywork pages (their illustrations are from Dover coloring books), the boys completed a page of their choice weekly. These pages might include the name of a bird of their choice, a fact about that bird, and always an illustration.
Math
Throughout the unit, we tracked the different birds we saw by date, type, and (as best we could) quantity.
We used the Tanglewood Hollow North American Bird Identification cards to create graphs comparing various backyard birds. I created a graph comparing bird clutch sizes first to model the steps. Then the boys independently graphed bird wingspans and bird life spans using information from the cards. (The Lord of the Wings Trump Card game is a great alternative resource, but can be hard to find!)
We also participated in the Great Backyard Bird Count this year!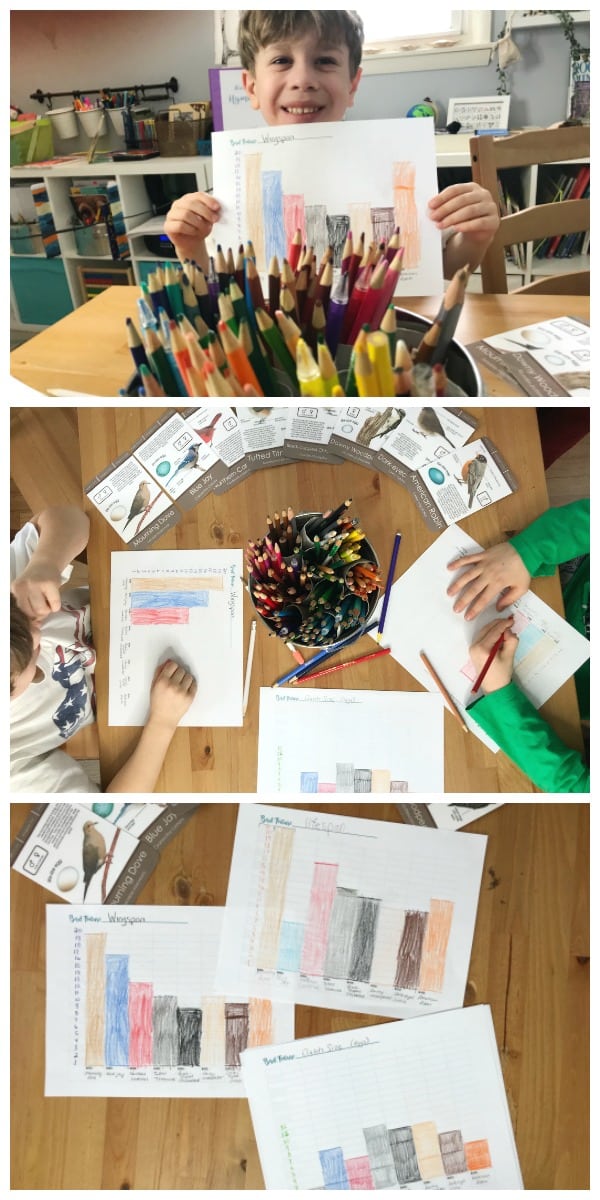 Bird Study Unit Fine Arts Activities
Poetry
For poetry teatime, we focused on bird poems. Most of these I found in animal poetry books, but I also collected several classic poems into my bird study unit plan, which you can download at the end of this post.
Art
Using the Bird Chalk lessons from You ARE an Artist, my boys painted several different birds with chalk pastels. I selected birds we commonly see in our yard: robin, cardinal, blue jay, and chickadee. Plus, during our nesting study week, we drew the bird nest. You ARE an Artist gives step-by-step video instruction with a master artist, helping kids towards a successful picture! Try a FREE lesson here!
You ARE an Artist monthly memberships are available so you can access ALL the great art lessons. Or, purchase just the Bird Chalk Unit and let Nana teach your kids how to draw/paint eight different birds, plus a nest! My boys loved this part of our bird unit the most, I think (which says a lot because they loved every part of this unit).
On the days we didn't do a chalk pastel drawing, they colored copies of bird coloring sheets from a Dover coloring book.
Handicraft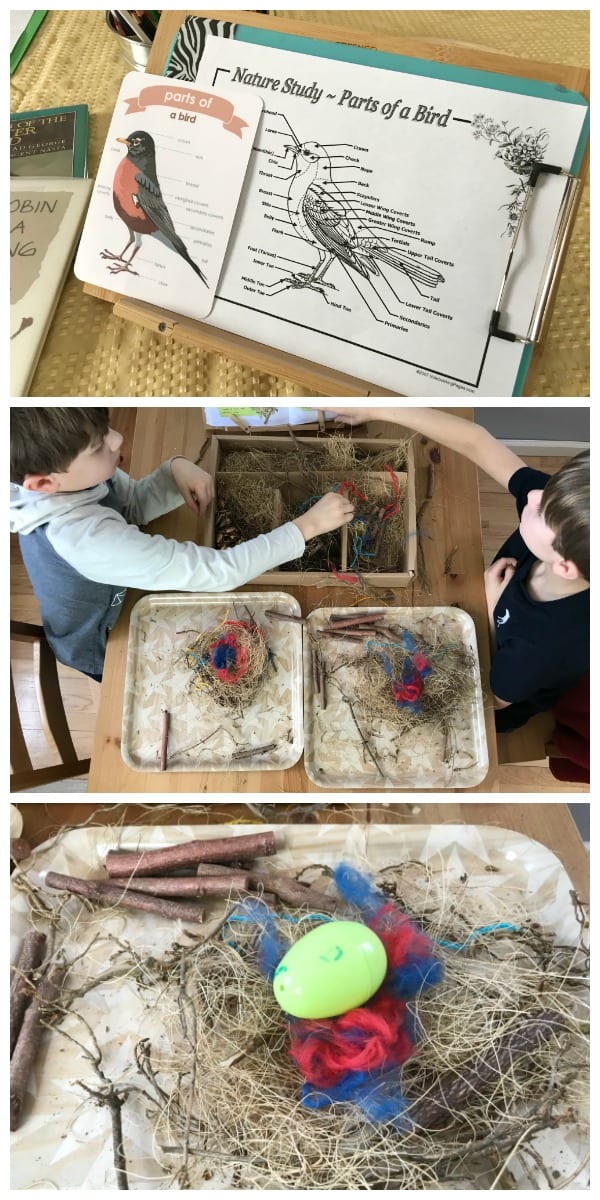 Each week, we created a different hands-on craft project. Now, these aren't truly the Charlotte-Mason style handicraft, but I wanted my kids to "create" on a bird theme! We made:
Paper Roll Bird Feeders – learning about proper care and feeding of wild birds.
Chalk Pastel Bird Drawing – we drew birds every week, but I couldn't think of a craft to go along with bird migration (yet). So, we focused on our chalk pastel art during this week.
"Spare Parts" Bird Nests – using some sticks, twigs, string, yarn, and floral accents, we attempted to make bird nests. This project did not quite go as planned, as the nesting materials did not stay together at all, despite our efforts. I'll have to rethink this next time we revisit this unit. Still, we had a wonderful discussion about how God gave birds the amazing ability to build intricate nests for their babies' survival.
Stained Glass Bird Sun Catchers – a pretty craft that can reinforce bird anatomy details
More Bird Study Fun
Here's a great list of bird watching for kids tools, books, and games we used to make our bird study unit fun and exciting!
In previous years, we've made a nesting bag for birds, which is an easy project that helps birds get ready for spring!
Our Favorite Books for Our Bird Study Unit
Besides our growing collection of bird books, I took dozens of books out of the library. Here's a handful of our favorites (full list in my unit plan):
The Burgess Bird Book for Children
The Moon of the Winter Bird (The Thirteen Moons)
Nature Anatomy: The Curious Parts and Pieces of the Natural World
The Robin Makes a Laughing Sound: A Birder's Observations
Look Up!: Bird-Watching in Your Own Backyard
The Boy Who Drew Birds: A Story of John James Audubon
Backyard Birds of Winter
Feathers: Not Just for Flying
Have You Heard the Nesting Bird?
Mama Built a Little Nest
What Makes a Bird a Bird?
Cradles in the Trees: The Story of Bird Nests
An Egg Is Quiet (Nature Books)
How Do Birds Find Their Way? (Let's-Read-and-Find-Out Science 2)
On the Wing: American Birds in Migration
Download a One-Week Sample of my Backyard Birds Unit Study!
I love going through this simple and easy bird study unit with my boys each year. They are engaged every day for a month, and I learn alongside my children, which I love!
Plus, we still have so much we can learn about birds! I know we'll enjoy cycling back through this unit each year. As the boys grow, I've added to this unit study: language arts, math, mapping, and nature journaling skills.
You can get your "starter pack" FREE in this One-Week downloadable sample of my Backyard Birds Unit Study Guide:
These 10 pages give you a week's worth of curriculum materials to study birds, which includes a Bird Count Tracker PERFECT for the February Great Backyard Bird Count (but you can count birds any time of year!).
Looking for a longer Backyard Birds Unit Study?
I have the FULL Four Week Backyard Birds Unit Study Guide available! It is FRESHLY redesigned this year (2022) for a more elegant design, and clarity of instruction. I've added more details to the Morning Time Routines, plus I've added many additional printable activity sheets.
The poetry pages now have black and white illustrations perfect for slipping into your Morning Menu. Plus the three pages of bird illustrations can be used for any number of activities from notebooking to creating games, coloring, and more!
This digital unit study plan includes:
Morning Routine Description
Book List
Supply List (plus links to additional resources)
4 themed weeks of plans
4 activities (one for each theme)
Bird Count Tracking Printable
His Eye is on the Sparrow Hymn Printable
Bible Memory Printable PLUS 4 different Copywork pages
6 Bird Poem printables
Math Graph Comparison Worksheet
Bird Anatomy Labeling Worksheet
2 Blank Notebook Pages (leveled for ages)
3 Bird Illustrations Pages
Bird Scavenger Hunt Game Card
Collective Noun Birds Poster
Here's another look at some of the pages inside this guide:
This 40-page resource guide is chock full of ideas for your next backyard bird study! Use it for a month, or use one week a year to extend your birding expertise year after year! Your kids will love revisiting this themed unit study because it's so accessible, given that birds are everywhere!
Buy the Backyard Birds Unit Study!
If you know someone who'd like to study birds, please share this post with them. Thanks!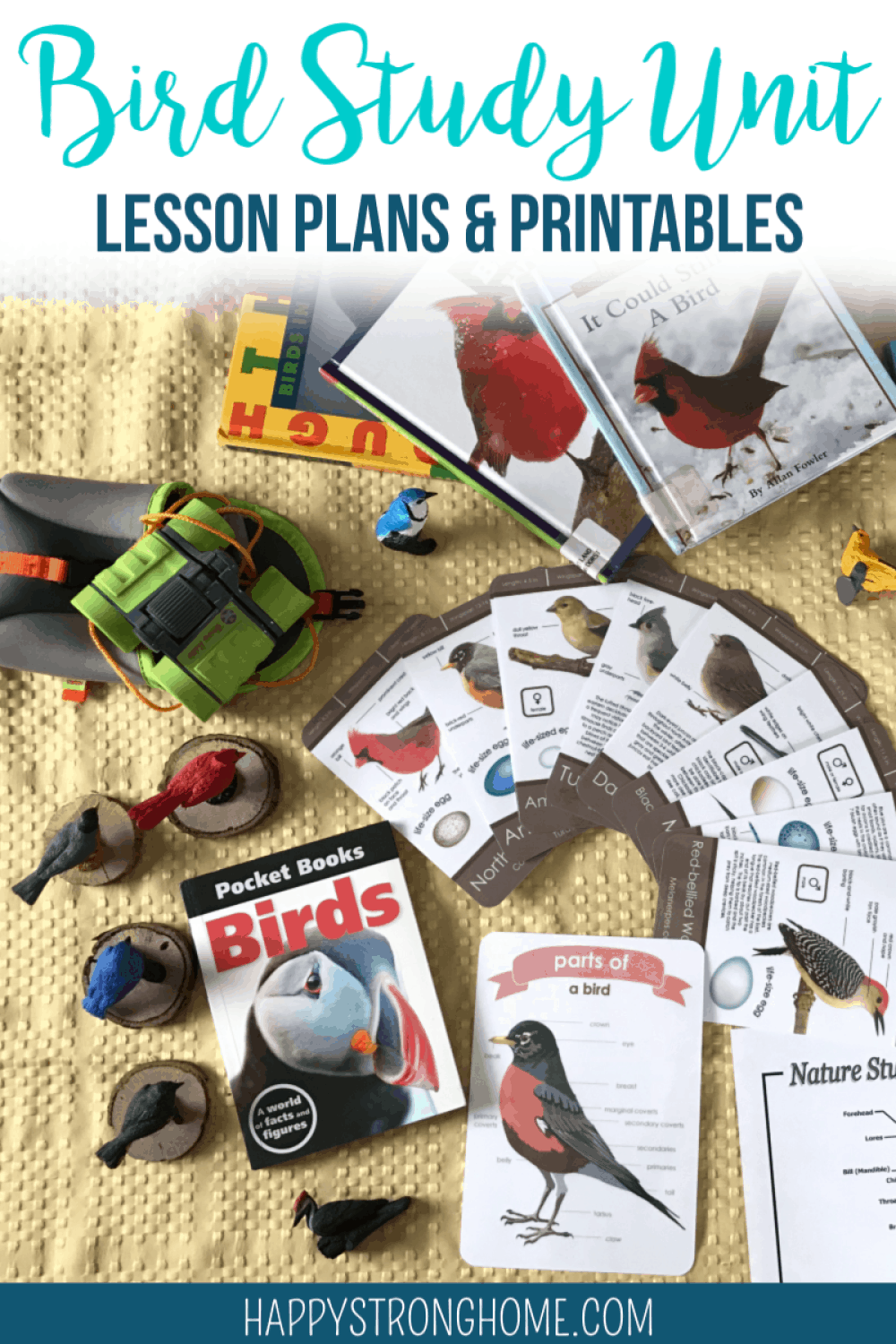 I have used Amazon Affiliate links in this post. As an Amazon Associate I earn from qualifying purchases.