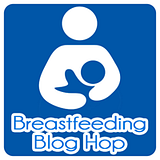 A short one, but I wanted to respond to this week's Life With Levi Breastfeeding Blog Hop!
Regarding breastfeeding… I wish I would have known:
That it could hurt so much (although maybe I wouldn't have tried).
That it could hurt so much for SO LONG! (see above)
That lanolin products could create an allergic reaction (yes, I got pins and needles whenever I applied lanolin-based balms).
That it was okay to use a bottle sometimes, to save myself some pain, get some sleep, etc.
That pumping for an entire day to save myself some pain was okay too.
That some people (including MEN) insist on asking me to my face if I am breastfeeding. Please don't do that. It's first of all not your business, and second of all, super awkward. If you need to know, have your wife ask me.
That people would then ask "Are you STILL breastfeeding?" Unless you're related to me, or a personal girlfriend (or blog friend), why do you really need to know?
That my entire wardrobe would change to accommodate breastfeeding comfort. (I got a few things, but quickly realized nearly NOTHING I owned was suitable for easy nursing).
That there were breastfeeding specialists available to help. (I would have gone to one ASAP instead of waiting until week 8).
That there are awesome nursing clothes out there, (like Bravado, Milk Nursing Wear, Japanese Weekend, and MilkStars… and probably more I don't know about but would love to try!)
What do you wish you'd known about breastfeeding?