One aspect of our homeschooling where I feel I'm constantly restructuring is our Bible curriculum. Early on, we'd simply read our favorite Bible storybooks, and short Scripture passages. Last fall, I stumbled across a unique Bible study: Grapevine Studies, and immediately ordered a small ebook for our kids' Bible study. We LOVED it, so I was thrilled to review more lessons for The Old Schoolhouse Review crew! For the past few weeks we've been using Grapevine Studies The Resurrection Beginner unit with my 6 year old and the Beginner Traceable version with my 3 1/2 year old!
This is a sponsored post.
Grapevine Studies Kids' Bible Study Made Easy
You know all those beautifully intricate Bible journaling pages that fill up Instagram feeds? Well, I wish I could draw like that, but I can't. Still, there's something about being able to visualize a Bible story or concept that makes it stick (figuratively! ha!).
Grapevine Studies, Stick Figure Through the Bible, is perhaps a precursor to Bible journaling… but made easy! And more focused too!
There's a huge range of topical Bible studies from Bible characters like Esther, Bible facts like the 10 Commandments, or Bible events like The Resurrection. The lessons in each unit share a key passage to read, a thought or summary about the passage, and a picture of how to draw a stick figure representation of the passage. At the end, there are review questions, and a vocabulary glossary.
Each unit has various levels: Teacher books included colorful stick figures (the colors are often important to remembering who is who! Purple is always for God and Jesus!). Student books range from the Preschool Traceables which have light gray images to color over, to Beginner and up through age 14 (7-8th grade) have blank boxes to draw freehand stick figures.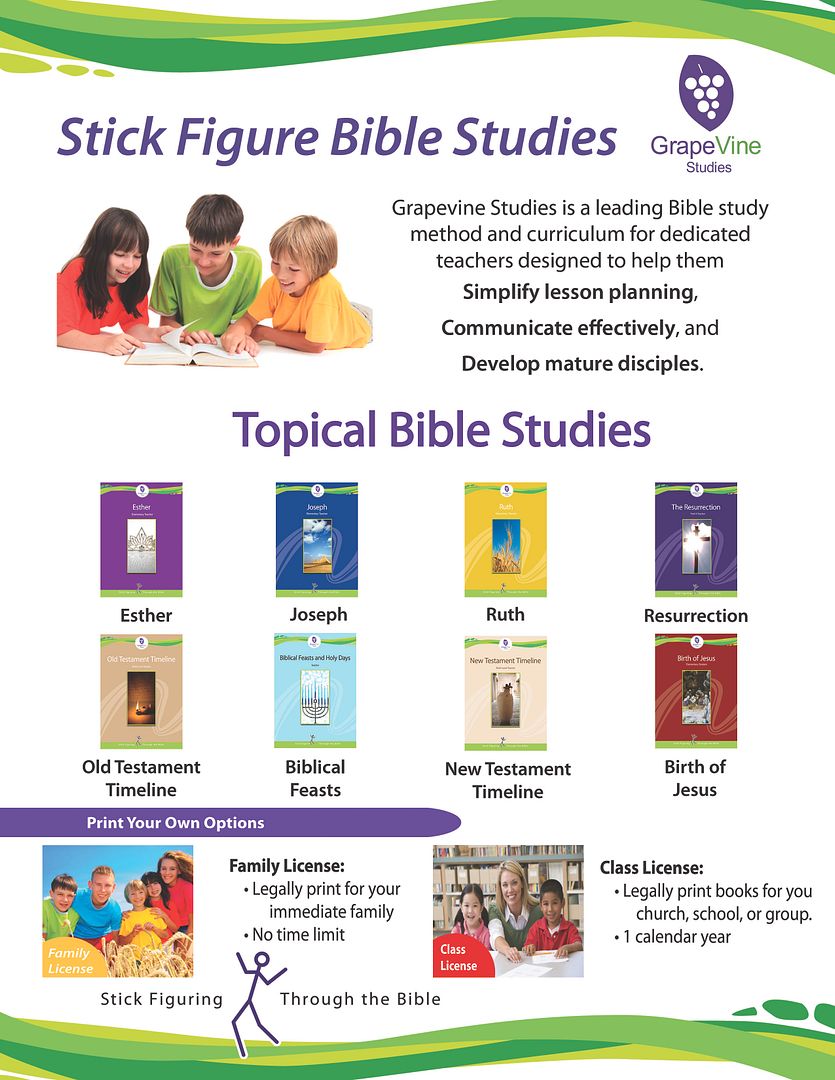 How we're using Grapevine Studies in our homeschooling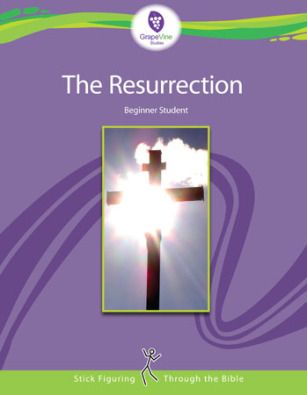 Receiving Grapevine Studies The Resurrection unit was perfect timing for us, since Easter / Resurrection Sunday is only a few weeks away! Because the products can be digitally downloaded, we got to dive right in. There's also the option to order hard copies.
To introduce the concept of Bible study (versus just reading stories, etc), I set each of them up with a 3-ring "Bible Binder." Their binders include the printed unit pages in page protectors, plus a pouch of colored pencils and assorted dry erase markers. I'm hoping this sets them up early on to understand that Bible reading is an active pursuit! The goal for our family is to teach our children to be disciples of Christ and "feed themselves" spiritual food… what better way than showing them how to take notes (draw!) from what they hear in Scripture with this great kids' Bible Study!?
Using the dry erase markers worked best for us, as it allowed them to correct their drawings or erase and draw them again while I read the passages. My little guy kinda just likes to "color over" the stick figure, which works. Sometimes, my older son will pull the pages out and use the colored pencils, which is why I provided a range of resources.
Bonus… it is SO easy to include extra kids in your kids' Bible study! One day an older cousin was visiting – I just handed him a whiteboard paddle and he joined right in!
Drawing out the spiritual side…
You might have heard that doodling is actually a helpful listening strategy? Even better when the doodle is ABOUT the reading! I love that they are occupied the whole time. When they finish the stick figure, they'll often draw embellishments around them. So there's never any "dead zone" of time when I'm paging through the Bible for the next Scripture passage.
At first I wondered if going over the six trials of Christ would be a bit much for a 3 and 6 year old to remember. But that's the genius of Grapevine studies. Drawing stick figures helps solidify the factual information in their minds. Days after the lesson, I asked my son who was the man who washed his hands of Jesus, and he quickly answered, "Pilate!"
The boys could not be happier than when they are doodling out images from the passages. We've learned the order of events in detail (frankly, I never realized there were SIX distinct trials until this unit either!). We talked about the emotions Jesus may have felt during each trial, and during the crucifixion as he talked with the robbers on either side. (My boys are very into cops and robbers, so this was fascinating to them).
Along the way, I had guidance in communicating difficult concepts simply and effectively for little learners in our kids' Bible study. There are some harsh moments in the story of Christ's death, but The Resurrection unit from Grapevine Studies allowed me to stay true to the word of God, without mincing details but without getting too graphic either.
Try a free lesson from Grapevine Studies!
Right now, The Resurrection unit is 20% off! Most other lessons are about $12 / book.
Just in time for the Lent / Easter / Resurrection season! Plus, they always have free samples to download and try. Perfect timing for this month is the FREE e-lesson The Last Supper. Download it and try it in your own kids' Bible study time. I'll be so interested to hear how it works for your family and homeschool Bible time!
Other reviewers on TOS Review Crew are talking about various levels and lessons from Grapevine Studies – check out what they have to say by visiting this link: