When someone says "comfort food" to you, what comes to mind? I have to admit, I have a lot of "comfort foods" because I LOVE food! This layered gelatin dessert recipe was my perfect comfort food as a kid, and I gotta admit, I still love them!
One thing most of my comfort foods have in common is … sour cream seems to feature in a lot of them!
I participated in a campaign on behalf of Mom Central Consulting for Hood. I received product samples to facilitate my review and a promotional item as a thank you for participating.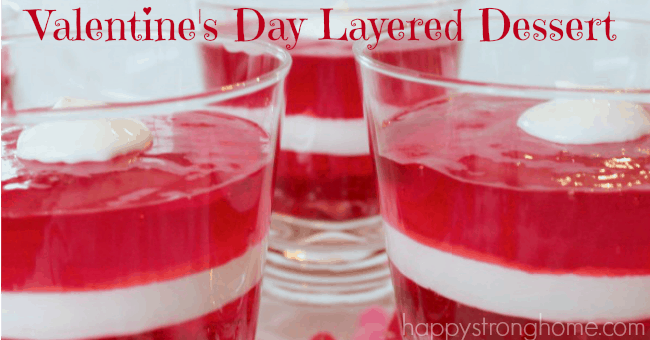 I love chili with sour cream mixed in, loaded baked potatoes with sour cream on top, sour cream coffee cake, cheesecake, french onion dip, and I'll even just eat sour cream out of the container! Sour cream is a staple in our fridge, that's for sure!
When it came to choosing a comfort food recipe with sour cream, I had a lot to pick from, but in the end, decided on this layered gelatin dessert recipe. (Also, it's going to be our dessert for Valentine's Dinner!).
Growing up, my mom almost always made this dessert for the holidays, and I'd go absolutely nuts for it! I'd usually have several helpings… and then several more!
And… since it was usually red, it's the perfect choice for many holidays (Christmas, Valentine's, Fourth of July…). Here's the steps to preparing this quick and easy layered gelatin dessert recipe with Hood Sour Cream!
Valentine's Day Layered Gelatin Dessert Recipe
A quick and easy dessert that's lightly sweet, deliciously creamy, and will have you coming back for seconds!
Ingredients
1/2 cup chopped walnuts
1/2 cup chopped frozen berries (optional)
1/2 cup Hood sour cream
2 packages strawberry or raspberry gelatin
boiling water
ice
Instructions
Chop your walnuts and fruit and place in a single layer on the bottom of a casserole dish or separate parfait glasses.
Prepare first gelatin package according to speed-set directions using your water and ice. Spoon gelatin over nuts just to cover. Set in fridge for about 10 minutes.
Spoon remaining gelatin over the set layer to make a slightly thicker layer (about 1/2 an inch is good, but it's all to your liking). Set in fridge for about 10 minutes.
Meanwhile, prepare your second package of gelatin according to directions.
Stir your sour cream so that it's of even consistency and smooth. Gently spoon dollops of sour cream over the top of the set gelatin. Jiggle the sour cream lightly to make it spread out over the top (or you can use a spreader, just try not to gouge the jello beneath).
Carefully spoon your second batch of gelatin over the top of the sour cream layer. Do NOT pour as this will tunnel through the sour cream layer and cause it all to float around in pieces. Spooning the jello allows it to lay on top without going through the sour cream layer.
Set in fridge for 20-30 minutes or until firm.
Serve and enjoy!
Notes
Try various kinds of fruit! Try more than 3 layers – just keep adding gelatin and sour cream the same way! Use two flavors of gelatin or two colors for a real treat!
What I love about this recipe is how it's easy and fast to make – you can get it done in about an hour. As "everyday" as this sour cream dessert recipe can be, the richness of the Hood Sour Cream makes it a little bit decadent too – so when you have unexpected company, this is a great dessert recipe to whip up at the last minute!
I think it's a great kid-friendly recipe, too, so you might try using this for a kids-in-the kitchen activity; some of our best memories with family are made over food, after all!
And make no mistake. When it comes to buying sour cream, you have to go for quality. I choose Hood Sour Cream because it's creamy and rich, with no "tart" aftertaste. Hood's been around for over 160 years, and it's a trusted brand in our house. Hood makes light and fat free sour cream versions as well, if you're looking for lighter options (personally, I just MUST have the regular variety!).
I really can't imagine any recipe with sour cream in it that I wouldn't like. You can find a ton of ideas and recipes using sour cream on the Hood website, plus coupons!
What's your favorite sour cream recipe?
I participated in a campaign on behalf of Mom Central Consulting for Hood. I received product samples to facilitate my review and a promotional item as a thank you for participating.