When I was a middle school Language Arts teacher, I taught 8th graders for two years. During this time, I chaperoned two class trips to Washington DC. A visit to our nation's capitol is both endlessly educational and eye-catching. Visiting DC with our family has been infinitely BETTER though because we can slow down and enjoy more detail! Here's our experience and travel guide to Washington DC with preschoolers!
Travel guide to Washington DC with preschoolers
Naturally, as we just finished Classical Conversations Cycle 3, which covers U.S. History and Geography, I wanted to bring our boys to visit DC. I thought my husband's spring break from teaching would be perfect timing to take our two boys to visit our capitol city.
I learned a LOT about taking a toddler and a preschooler to DC, and I hope what I've learned will help you if you're planning any upcoming trips!
Prepare for weather
March/April in DC can be tricky weather-wise. When we planned our trip 6 weeks out, the predictions were for the cherry blossoms to be in perfect bloom during our stay. However, cold weather blew through, delaying the blossoms, and we saw a scant few on a couple trees. The temps ranged from 37 to 65 during our four day stay. So… be prepared to layer up! (And if you don't, street vendors sell hats and gloves and sweatshirts and ponchos!).
You're going to walk a lot!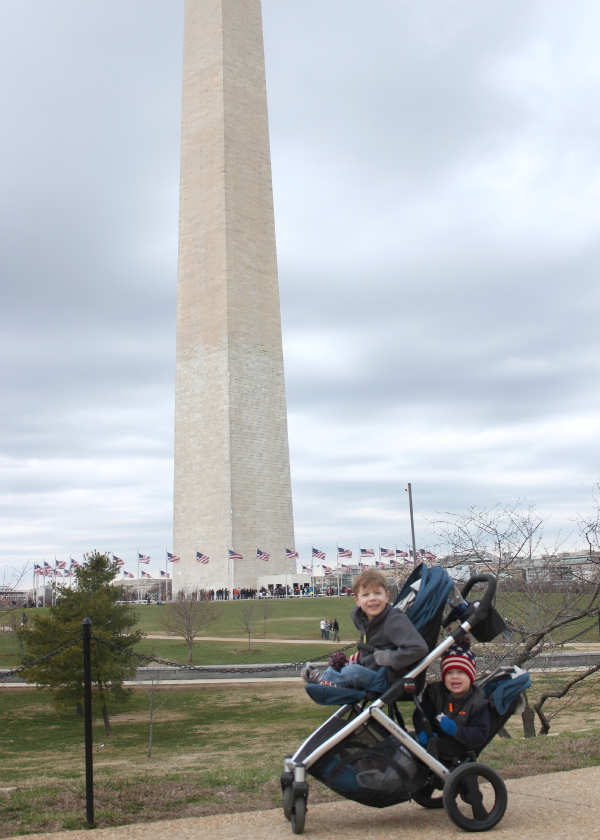 While most museums and monuments are in the National Mall area, it's quite a bit of ground to cover! Wear comfortable shoes, and definitely bring baby carriers and strollers for the little ones. Even our five year old had to take a few naps in our Britax B-Ready inline double stroller. (I wanted to climb in a few times!).
Ways to get around Washington DC
Finding parking is a challenge in the Mall area, so we found it best to park our car near where we stayed, and take public transport. The Metro is safe, clean, and runs regularly. All the travel sites recommend getting a SmarTrip card. But we just purchased three $10 regular farecards and kept trading them in to reload as needed. Children under 5 ride free.
We brought our stroller on the train – you just have to find the elevator for the correct side of the track. Follow the handicap signs to ensure you have stroller access. And, be sure to enter the train car through the back or front doors, never the middle.
One night we were out late on a bus tour and didn't want to walk in the dark to and from the Metro. So we tried out that new ride service Uber. I was very pleased with our experience, and the $16 fare was only slightly more than three fares on the Metro, plus saved us the walking time. We waited less than two minutes from the time I requested our ride!
There's also the option to purchase Hop On / Hop Off bus tickets to go from attraction to attraction, but these are pretty pricey.
What to see with younger kids in Washington DC
Unless I'm missing out on something big, the sites are rather limited for the under-five crowd in DC. Most museum exhibits require a lot of reading to appreciate. However, we still found plenty to enjoy with the kiddos. All the Smithsonian museums are free, making it great for younger kids – if you end up not being able to stay long, you're not out your money! Or you can go back later, no problem!
The National Zoo – free, clean, and an easy walk from the Woodley Park – Zoo Metro stop. View the pandas, gorillas, and all the usual zoo crew! A Carousel ride is a great way to end the day before walking back to the beginning of the zoo! Don't forget to visit the Kids' Farm, where they'll learn how their entire pizza from box to crust to toppings is grown!! And they can play on the gigantic pizza playground!
The National Air & Space Museum – It's the most visited museum in America (or maybe the world? I forget the stat our guide gave us) – at any rate, it's going to be BUSY! There's a large hands-on How Things Fly exhibit right when you enter the museum that kids will love. Several planes and a space lab that kids can walk through. A moon rock to touch. Have kids look for Able the Monkey in the Apollo exhibit. The IMAX movies are lengthy for younger kids, so we opted for a shorter planetarium show on the stars (although I should've known it would be mostly about evolution, which was disappointing as I thought it would have more interesting facts, and there were several explosions that scared my five year old.)
The National Museum of Natural History– Of course, you'll want to visit the Dinosaur exhibit, but just be forewarned they are renovating until 2019, so only T Rex and Triceratops are on display. There's a butterfly walk-through garden, but it's an extra charge. The elephant on the main floor is exciting for the kids. Gems and rocks can be fun to look at – the Hope Diamond is beautiful.
Fly Kites on the National Mall – Bring your own or grab a cheap one at the Air & Space Museum. Kids will love just running around on the green grass (get some ice cream or bring a picnic lunch!).
Bus Tour of the Monuments – We covered a lot of ground on a bus tour of the Capitol Hill area and all the monuments. The three hour Viator bus tour drove us around town and to each monument. The tour guide was friendly and funny, and shared lots of local and historical information that helped us understand the sites better. The stops are brief – plenty of time to get a decent photo opp, but not enough to read all the plaques, etc. I had chosen a night tour, which is pretty, but as it was way past the boys' bedtime (and very cold), they were a bit unhappy at the end. We used the baby carrier for this trip as there is still quite a bit of walking from bus to monument. There are daytime tours, as well as bicycle and Segue tours available!
Ride the Carousel on the National Mall – A small carousel is tucked away right by the Smithsonian Castle. Rides cost $3.50 per person. Our boys decided the bench seat was where the fun was at!
The Eastern Market is a bit off the beaten path. If you're in the mood to browse handicrafts and fresh produce on a Saturday or Sunday, it's a great little stop. There's plenty of cafes and restaurants around too!
If you're looking for a church to attend, Graceway Baptist Church is right near the Eastern Market, and is a newer fellowship in the area!
Eat at Founding Farmers – There's so many great eateries in a big city like DC. We actually didn't eat out often, but one stop we made a point to eat at was the Farm-to-Table restaurant Founding Farmers. We had a scrumptious breakfast of fluffy pancakes, light-as-air waffles, savory leek potato hash and more yumminess. The food was so fresh and delicious! I can't wait to go back! (Check out the cute t-shirts the boys colored before our trip!).
Mount Vernon – although not actually in Washington DC, this Virginia home of George Washington is a must-see! Check out our Mount Vernon experience!
Have you ever traveled to Washington DC with young children? Tell me what we missed! We want to go again and hit a few more spots!