When homeschool moms prep and plan our homeschool year, we are surrounded by so many wonderful products and programs. That's why I love to feature the ones we love and use in our home, to give you information to help your decision making. ChalkPastel.com has quality lessons in art for homeschool families. Letting kids learn through drawing is such an easy process, even for this stick-figure-drawing mom!
It's not news: drawing helps kids learn. We've heard "a picture is worth a thousand words" so often, I'm surprised there's not a picture of THAT! Drawing is a large piece of our homeschool curriculum. For the past year, we've had our kids learn through drawing with ChalkPastel.com. Although my boys have enjoyed every lesson they've tried, the History and Space I Drew It Then I Knew It series has been invaluable in this year's 2nd and 4th grade studies!
Sponsored post. Affiliate links have been used in this post.
Art for homeschool with ChalkPastel.com
ChalkPastel.com, by homeschool mom Tricia Hodges of the HodgePodge art site and her artist mother, Nana, is a wonderful online series of art lessons featuring chalk pastels and acrylics.
ChalkPastel.com provides hundreds of art lesson videos where Nana demonstrates how to draw/paint a single picture using chalk pastels (there are also acrylics lessons we haven't explored). The videos are short and easy to prepare for; usually 10-15 minutes long, it's easy to add an art lesson to the week!
Each video is warmly introduced by Nana, where she explains the drawing, suggests paper color and layout, and chalk color selection. Then she begins giving step-by-step directions. She also explains techniques, so new artists can join in, and advanced artists can be challenged. Nana's soothing and voice and encouraging words keep my kids going, even through difficult pictures. Kids can always pause to catch up if they need to!
ChalkPastel lesson variety is astounding! The topics range from animals, landscapes, maps, Bible stories, historical characters and features from ancient to modern times, and more. Each lesson is marked as easy, standard, or complex, so my kids know what will fit their level. They've also released a free lesson planner chart where they group lesson titles for easier homeschool planning.
Learning through drawing with ChalkPastel.com
At first, we started using ChalkPastel.com's lessons for fun. I let the boys select what they wanted to draw, or we used the seasonal lessons. Mostly, we did art in the afternoons to relax. Relaxing with art has been a wonderful winding-down-the-week activity.
Then I got thinking… since kids learn by visualizing and drawing, couldn't I dovetail these wonderful art lessons into our subject learning? Turns out, yes! It was so easy to fold chalk pastel lessons into my current homeschool lesson plans.
I started by including the bird drawing lessons into our annual bird study unit plan (a 4-week curriculum you can download for free!). As we studied birds, we'd also paint them with chalk pastels. These bird paintings became wonderful illustrations of our learning, and the boys grew their knowledge of each bird by drawing the various colors and features of cardinals, bluebirds, blue jays, robins, and more.
The I Drew It Then I Knew is Series has been wonderful for our lessons. Since drawing helps kids with recall, they can draw AND learn facts about their studies. For example, when my boys drew the castle, Nana shared interesting facts about the structure and purposes of medieval castles. She weaves these details into the lesson, and it's so enjoyable to learn context as they draw.
Later, when reading or studying this same topic, they'll have memory clues in their brain, reminding them what they learned, and helping them attach/remember new information.
This year, I've planned weekly art lessons to go along with our Classical Conversations Cycle 2 work. We rotate between medieval figures and objects and astronomy objects. The art lessons on falconry, Robin Hood, castles go along with the history and literature books we're reading for Cycle 2. And drawing planets, lunar landings, space objects exactly fit our Apologia Astronomy science studies!
Unexpected returns from art lessons
Initially, my youngest (then 6) was frustrated he couldn't get his picture to look JUST like Nana's. His little fingers left smudges all over his painting. We talked about how each artist has their own style and viewpoint, and exact copies aren't the goal. And we discovered you can use a pencil eraser to remove stray chalk marks and smudges, tidying up the drawings nicely for display. And we persisted!
Fast-forward about a year. The other day, I asked him "how did you draw all these!?" And my once-frustrated artist turned to me and said, "Because, Mom, I AM an artist!" Just as Nana says. Her words have spoken so much life into my little boy and I am so grateful!
And this past Saturday, my youngest sped downstairs before breakfast to do some ChalkPastel.com lessons. By 10 am, he had already completed three pictures, and he spent the entire rest of the day happily completing lesson after lesson.
Unexpected returns from lessons with ChalkPastel.com have been:
confidence in their artistic skills
independence as they reach for their chalk pastels create a picture as a gift or free time activity
giving hearts since they know they can give the gift of hand-made artwork (there's a whole series of lessons on art to make and give!)
expanding skill range as they learn new techniques and add their own details to their pictures
quiet learning time – my boys are at the age when I can set them up with an art lesson and give myself a few minutes to regroup or set up for our next task or lesson!
Truly, it couldn't be easier to help kids learn to draw and draw-to-learn with Nana at ChalkPastel.com! Your children too, can experience the joy and confidence that comes from these wonderful art lessons.
What do I need to start using chalk pastels?
As someone who's collected probably every art supply and craft kit under the sun (and we love them!), it is astounding how simple chalk pastel art is.
A word about mess. Yes, chalk can get a little messy. It makes some dust and crumbles. Darker colors can stain. So have kids wear older clothes or an art smock and keep them at the table. However, cleanup is a breeze. I send kids to wash hands and wipe the table down with a baby wipe or damp towel, and we're good! Compared to paints, clay, or other medium, chalk pastels are simple and easy, with such a colorful and satisfying result! So the payoff far outweighs the prep/mess.
The chalks themselves can be broken to share with siblings (warn them first or you might have tears), and let the pieces jumble happily together in a box!
Supplies you will need:
chalk pastels (just a simple set like this will do to start)
paper (get a ream of multi-colored construction paper because the various colors make satisfying backgrounds for young artists)
baby wipes (these really do keep everything clean and tidy!)
erasers (I got these stick erasers so my kids don't use up the ends of all their pencils)
aerosal hair spray or fixative (optional! but can keep the chalk from smudging or brushing away in storage).
ChalkPastels.com lessons or Clubhouse Subscription! (details below!)
Prismacolor Pastel Color Sticks, 24-Count
Pacon Construction Paper
Pentel Clic Retractable Eraser 3 Pack
Amazon Elements Baby Wipes
Winsor & Newton Artists' Aerosols Workable Fixative
Accessing ChalkPastel.com for your learners
You should definitely try out the FREE Get Started with Chalk Pastels lesson on the site. You'll learn more about chalk pastels and get to try a few simple drawings. Plus some of the individual units have free samples too – poke around and explore!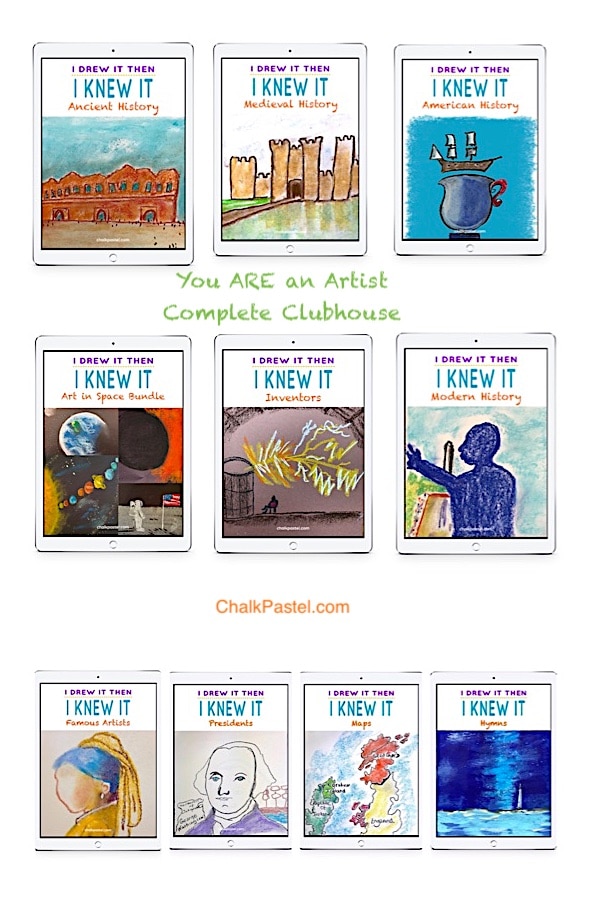 After that you have several choices:
Complete Clubhouse Membership

– includes ALL video art lessons! This includes all the I Drew it Then I Knew It History series, and Nana's continuing Exclusive series on Maps, Presidents, Famous Artists, Composers and Hymns.

Annual, Quarterly, Monthly memberships available.

Artist Clubhouse Membership

– includes science, hymns, and a bank of art lessons on various topics.

Does not include the History or Clubhouse Exclusives.

Annual, quarterly, monthly memberships available.

History I Drew It Then I Knew It

eras (Ancients, Middle Ages, American, Modern) – Monthly $10 – select only the topic you want during the month you need it. Effective and economical, and great if you want to test the waters…but I know you'll fall in love and want more!
There's a LOT to pick from when choosing homeschool materials. This is why I love to detail what we use, how we use it, and why we love it. ChalkPastel.com with Nana provides more than just art for homeschool curriculum. You'll get cozy times together creating memories and fun artwork. You can use it to supplement regular lessons. And your kids will develop confidence and skill in art and other subjects.
Truly, ChalkPastel.com is a gem to have in your homeschool treasure box.
Thanks to ChalkPastel.com for providing an annual membership for me to try at home! This post includes affiliate links which may generate a small commission from purchases. As an Amazon Associate I earn from qualifying purchases.