We had such a rainy day here yesterday… it prompted me to go back through my site and revisit some of our old rainy day activities. I have a big list of them to share!
Rainy Day Activities
Sensory bins and Tinker Boxes are lifesavers on a rainy day! Just let kids explore some "new-to-them" bits and pieces! (You might want to make some DIY Colored Pasta or Rice)
Check out my post on the Melissa & Doug blog about how to create a Rainy Day Block Maze activity!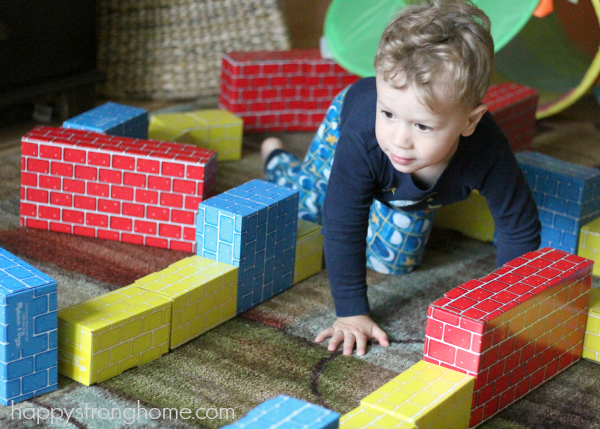 Playing with corn starch, water, and food dye for a little Kitchen Science and Magic Mud will make you forget all about the mud happening outside!
Have some Activity Bags available to pull out for those I'm Bored moments (modify for older children)
Here are ten easy cooking and kitchen ideas for you!
Host a Kiddie Workout class!
Play balls are fun to create a ball pit (kiddie pool or pack n play?), but there's all sorts of engaging ball activities you could try!
Rainy Day Book Activities
Host a Reading Picnic! Set up a tent, get out some books and flashlights… and get reading! (Courtesy of Melissa & Doug blog and Tiffany Dahle from Peanut Blossom blog).
While you're reading, check out these Shine-A-Light books – books that you read with a flashlight to reveal hidden pictures that tell the rest of the story! From Usborne Books & More, there are 11 books in the series, on topics like space and construction, to gardening, rainforests, and the human body! (referral link)
How about a book that's also a puzzle? And a wind-up game?! Wind Up Bus and Busy Book (pull-back toy) titles from Usborne Books & More are interactive books that tell a story while the wind-up toy follows grooves embedded into the pages. The Wind-Up volumes are also puzzles – the pages get taken out and assembled into a much larger track! (referral link)
Rainy Day Craft Ideas
Make these Crayon Rubbing Plates and let kids design interesting patterns for cards, posters, and more!
DIY Window Clings will entertain for a while, as kids decorate your windows!
Use old containers tomake a bank, play abowling game… or invent their own fun!
Kids can collect small objects they find around the house to create an I-Spy Jaror bottle! (cleans up your house too!)
How about just playing with a cardboard box?
Create abstract art with glue and shapes!
Creating and using a sticker book is a good idea when you need quiet time in the house.
Don't want the mess? Try Melissa & Doug's Mess Free Glitter stickers andcrafts!
Rainy Day Toys
I always break out the Crayola Wonder for a no-mess coloring station
Sticker and magnet mosaics are great fine motor skill toys and work for a range of ages
Rainy days are great times to teach kidsclassic board games or work a puzzle. Try Suspend – a fun 3D balancing game for an alternative to the traditional board game!
Use puppetsto create a show, reenact a book, or role play!
Popsicle molds and play food are perfect for staying in, while hoping for brighter days!
Hot Dots Jr. is a great toy to encourage educational play
This ride-on toy is soft all over and won't damage your floors (or make TOO much noise!)
Keep one of these excavation kits handy for the next dreary day!
No mess drawing boardsand stackable buckets + imagination!
If you're brave, get out the band in a box and other noisy toys! No need to stay quiet just because you have to stay IN!
Hope you enjoy your next rainy day!

DISCLOSURE: This post was created in connection with my guest blogger post at the Melissa & Doug blog. All opinions are my own. Affiliate and referral links are included in this post, which may generate a small commission if items are purchased after clicking through the links.