This month, for a Valentine's treat without the sugar, we enjoyed a chocolate play dough cookie shop play idea! The boys had so much fun, and nobody had to tell them "that's enough candy and cookies!"
I absolutely have loved the ideas for sensory play dough in our preschool curriculum, A Year of Playing Skillfully! This month, the recipe called for Chocolate and Raspberry scented Play dough. I didn't have the ingredients for the raspberry scented version, so instead I created "strawberry vanilla" and chocolate play dough batches for the boys.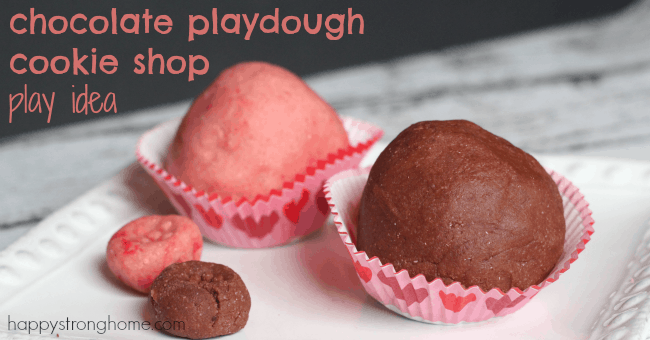 Basic Homemade Play dough recipe:
2 cups flour *see modification for chocolate play dough
2 cups water
2 T cream of tartar
1 cup salt
Splash of olive oil
Boil water, add dry ingredients plus oil, stir on low heat until combined. See below for modifications!
For the strawberry vanilla play dough, I made a half batch of homemade play dough, and added red food coloring, plus a 1/8th teaspoon vanilla extract for a subtle scent. *I used up old barley flour, so the scent didn't come through as strong as I would've liked.
To make chocolate play dough, simply replace about 1/4 of your flour with cocoa powder. I made a half batch and used 3/4 cup flour and 1/4 cup cocoa. The results start out a bit grainy, but with kneading the dough becomes smooth as usual. I also added a few drops of chocolate flavoring because I had it on hand. I'm not sure it affected the scent much.
Chocolate Play dough Cookie Shop Play Idea
The boys were so excited to discover another batch of scented play dough ready for them to play with! (Remember our yummy blueberry-scented DIY Purple Play dough?).
We started out making "chocolates" for a candy shop. The next day we decided our chocolates looked more like cookies, so we did a lot of chocolate play dough cookie shop play!
Rolling cookies, cut-outs, layers of chocolate and strawberry dough, even striped cookies. I love that my boys love this kind of hands on creative play.
The best part is, this dough lasts a long time. We still have our DIY purple play dough in the fridge from a month ago! And we've been playing with these two dough varieties for several days now!
I hope you enjoy this sweet chocolate play dough cookie shop idea with your kids sometime soon! Valentine's Day is of course, a wonderful time to enjoy this play theme, but really any day is great for pretending to bake and design cookies!