**CAVEAT! This post was originally created in 2014. Prices have changed dramatically since then. And also children have gotten bigger. I have not tried to duplicate this effort for current pricing, however, I do think the grocery list and menu choices are still about as budget-friendly as you can get, and I think my shopping tips still hold true. So I hope you can still benefit from this post!
Before I got married, I giggled hearing my mom and sister-in-law talking about the price of butter (it had gone over $2/lb!). I thought "Aren't there more interesting things to talk about?" Now that I've been married over nine years and added two little food-munchers to the family, the price of butter and foodstuffs is more on my mind than before!
Menu planning and grocery shopping is something I've grown to love. It's a challenge to feed my family within our budget! I don't always make it (!!) but most of the time, we eat well and I stay on target.
Whole Foods Market asked me to take the Whole Foods Hacks challenge and create a weekly menu (14 meals total) with a budget of $125, shopping at my local Whole Foods Market. I love a good budget challenge, so I was happy to take that on!
When we switched to organic and whole foods about six or seven years ago, the sticker shock was brutal! We transitioned item by item every few months to adjust our menu and budget gradually.
I often hear how expensive it is to eat organic. Truth: depending on what you buy, you can blow your budget on unnecessary products with an "organic" label! However, we've been able to slowly switch over to mostly organic/natural and keep our budget on track.
How to create a menu to feed a family (of 4!) on $125 per week (at Whole Foods, no less).
The Whole Foods Market Hacks program only asked me to account for 14 meals, but I ended up getting at least 18 meals with my purchases, and still had leftover food which we used for some simple lunches and dinners to round out the week! In retrospect, I see ways I could've saved money to buy even more food items – like not accidentally grabbing the jumbo (read: heavy and more expensive!) organic garnet sweet potatoes! I misread the sign and thought they were regular organic sweet potatoes… Whoops! but they were delicious!
(click to view recipe for Pumpkin Baked Oatmeal at Kitchen Nostalgia's site!)
(click to view recipe for Quinoa Yogurt Parfait – the fruit is different but you get the idea)
Tip #1 – Get to know your store!
I went on a Value Tour of our local Whole Foods Market for about an hour with the enthusiastic Katie Joy at my local store. People that say you can't save on organics haven't heard of all the ways to save at Whole Foods!
Pick up the Whole Foods flyer at the door – it's full of coupons for everything from packaged dry goods, prepared foods, beverages, dairy, snacks and more. Or view and print the coupons from home!
Stack manufacturer's coupons with Whole Foods Market coupons! You have to know what brands Whole Foods carries to max out this savings, but you'll figure that out quickly.
Follow your local Whole Foods Market on social media (Facebook, Twitter, and Instagram – check which ones are available for your local store), because they'll often announce one-day or Flash Sales online. I can't believe I missed out on the 2 for $10 Rotisserie Chicken sale!
Take advantage of bulk buys. Did you know (I didn't!) if you buy a case of (almost) any item in the store, you get 10% off that whole case? By "case" I don't mean you have to buy a palette! Say you love a certain brand of granola bar… instead of buying one from the box on the shelf, grab a full unopened box – that's a "case," – and you'll get 10% off! (You can mix/match flavors to create a "full case" to get the discount). Please check with your local store for specific details on this discount!
Pay attention to the signs. Yellow signs in the store flag the sales and specials, and are marked in the corner how long the sale lasts – 1 week, 2 week, etc, so you'll know if you have time to take advantage in future weeks or if you should snap up the bargain right away.
Save on meat. This is hard to do at ANY store, but did you know that most chicken at Whole Foods is 50 cents off per pound if you buy 3 or more pounds at a time?
Compare Apples to Apples…
Literally! I used to think it was cut-and-dry: Organic vs. Conventional. But many farmers grow food without pesticides and from heirloom or non-GMO seeds, but can't afford the organic labeling. Whole Foods is committed to ensuring ALL food in their stores meets a high standard – organic AND conventional. Even the conventional produce at Whole Foods must meet high standards.
I was pleased to find non-GMO corn on the cob from a local farm – Ferrari Farms. Although not organic, knowing it was non-GMO allowed our family to enjoy a treat we rarely eat! Check out which local farms sell to your Whole Foods, and you may be surprised! For more details on Whole Foods and GMOs, please read this article over at All Natural Savings blog.
You Get What You Pay For
Each Whole Foods sources ingredients and products from local growers, farmers, and artisans. The Whole Catch fish in my store comes from Glouchester, Massachusetts, barely a couple hours away. NOT from who-knows-where-across-the-sea! I'll pay a little extra for that. The reality is, sometimes the best food choices are a bit more expensive. Find ways to save money elsewhere so you can splurge where it counts. (For me, that's meat, dairy, and produce).
You get what you pay for… literally. If you're on a budget and can't afford a big package of quinoa at $6.99, buy a third of a pound from the bulk bins for just $2.38! Bulk bins help save you money overall, especially if you want to add variety to your menu without going over budget week-by-week.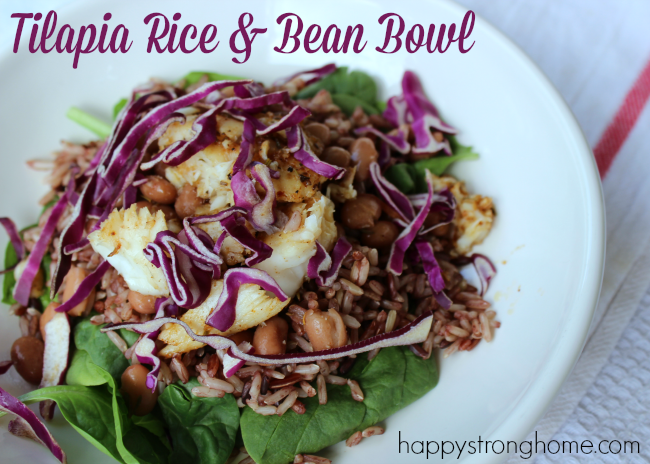 NEW!! Click here to get the Spicy Lentil Spinach Wrap Recipe!
And now for the good stuff. Let's talk about food and…
How I fed my family of 4 for $125 at Whole Foods!
My TOTAL spent at Whole Foods the day I shopped was $134.67. In our state, we pay taxes on food items, so that was part of the overage. And, I did buy a HUGE bottle of organic olive oil we'll use for at least a month because we were totally out of oil. I also had plenty of leftovers (peanut butter, fruit spread, milk, cheese), so if I only factor in the cost of the food used in the meals, I spent a total of ….
$102.26!
Yes, I actually surprised myself when I crunched the numbers, because I was sure I would use up all the food and my full $125 budget to make these meals, but I didn't.
Here is the cost-per-meal breakout. Use this menu yourself or modify as needed! (view and print this menu PLUS a full shopping list!).
This is a mostly clean-eating menu plan, with a few "prepared food" items and kid-friendly choices mixed in. It's typical of how we really, truly eat in our home! *Pricing does not include staples like salt, pepper, spices, sweeteners – all of which would likely be in your pantry, and in this menu plan are used sparingly.
Hacks for saving money on your weekly grocery trip:
Plan your menu in advance – avoids impulse buys. Whole Foods does have an in-store 4 Meals Under $10 each flyer that always gives me great ideas! And check out their budget-friendly meals online!
Get recipes, coupons and inspiration delivered right to your inbox with Whole Foods Market newsletters.
Leave a meal or two a bit flexible – Your menu should be more like an outline that you can modify on a fly a bit to take advantage of surprise sales and deals (for instance, a "burger night" would leave room to get in on a sale on seafood or pork burgers if it were priced better than the ground beef that week!).
Overlap ingredients – I purposefully planned meals to use several of the same ingredients. The whole roasted chicken made us three meals (roasted chicken, chicken soup, and then chicken pot pie – not on the menu here but we did eat it this week!). The fish made two meals (broiled and a rice bowl), and the sweet potatoes were both a side and a main dish wrap sandwich! Buying fewer items generally means you'll save more in the long run.
Before you go, I'd love to share my two favorite recipes from this menu!
Summery Tomato Salad – a favorite salad my Grandma Rinaldi used to make straight from her garden. It's so easy, fast, and fresh, and to me, is the essence of summer! Pairs well with just about any lunch or dinner meal.
Ingredients:
2 tomatoes – chopped
1 large cucumber – chopped
2 stalks celery – sliced
1-2 T olive oil
2-3 T red wine vinegar
Salt and pepper to taste
Lemon peel (fresh if you have it!)
Garlic powder to taste
Directions:
Put all chopped vegetables in a salad bowl.
Dress with oil and vinegar.
Shake on some salt and pepper, lemon peel and garlic powder.
Toss lightly (be careful of the tomatoes!).
Let sit 5-10 minutes for flavors to meld.
Apricot-Mustard Glazed Pork – an easy dinner for year round with plenty of zing!
Ingredients:
4-6 Pork chops (any variety)
2 T Brown mustard
2 T Apricot jam or any stone fruit jam or chutney
2 t Worchestershire sauce
1 T olive oil
Salt and pepper to taste
Directions:
Whisk wet ingredient together until blended.
Lay pork chops on a cookie sheet lined with foil.
Brush thickly with the apricot-mustard glaze.
Broil on high for 4 minutes per side (depends on thickness). Apply more glaze after flipping once.
Enjoy! Great with rice or steamed vegetables!
Here's a few more meals we enjoyed!
Click to view recipe for Wafflewich PBJ!
I was compensated for recipe development and writing this post as part of my participation in a campaign with Whole Foods Market. I only work with brands that I love, and opinions I express are always my own.