You know it's true – my blog ideas often come RIGHT from my everyday life! Like this healthy lunch ideas printable! Here's how I happened to write about this:
Making lunches for my kids just got weird! Recently they've gotten into eating hard-boiled eggs, so SCORE for me, right? Then this happened:
One day I was making hard-boiled eggs and happened to feed my oldest son a freshly boiled egg still warm. I mentioned that I really like them that way. Well. This week, I served hard-boiled eggs as the protein for lunch, and my son informed me that he doesn't eat cold hard-boiled eggs. Just warm. Well, hit me over the head with a rolling pin, why don't ya!
He explained so nicely how I could get out a pan and heat up water and make his egg warm again. Hahahaha!
We compromised by dunking the egg in some hot water for a few minutes to take the chill off!
Shows you just never know what kids are gonna throw at you, right? I'm going to be talking about lunches and lunch ideas a lot this year, I can tell! Why? Well that's just the phase we're in these days, and I hope I can help you out too as you're packing lunches with my free printable of healthy lunch ideas!
Healthy Lunch Ideas Printable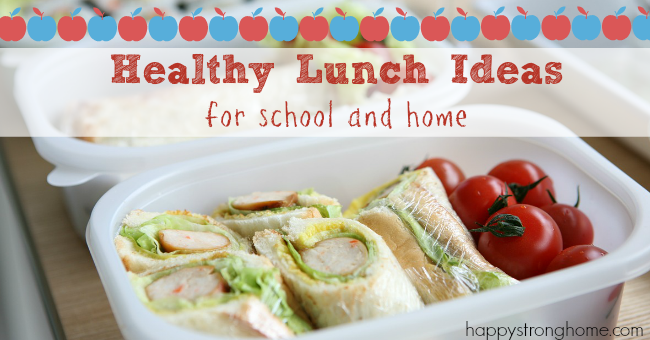 Sponsored post: I've partnered with Stop & Shop to help make packing lunches a little easier ! I got some tips for healthy lunch ideas from Stop & Shop's nutritionist, Julie Hersey. She's got a lot of strategies that include making a lunch box supply kit, prep tips, and a handy food list and I'm sharing them all with you here!
Create a lunch box supply kit:
Insulated lunchbox or cooler
Reusable water bottle
Freezer ice packs
Reusable storage containers
Sandwich & snack bags – look for Stop & Shop's Portion Control recloseable bags
Insulated hot & cold container
Reusable utensils
Hand wipes
Healthy Lunch Ideas Packing Tips!
Offer a variety of nutritious foods throughout the week.
Create a menu for the week and make a list of items to purchase.
Pack lunches the night before to minimize morning rush. Set out breakfast items ahead of time too!
Cook extra at dinner to have leftovers for lunch the next day.
Visual appeal is important! Make sure food looks as good as it tastes by including a mix of colors, shapes, textures and flavors.
Let your kids pick their own reusable water bottle with colorful shapes and patterns.
Put drinks in the freezer the night before so they double as ice packs.
Involve kids in the packing process. By being actively involved they can learn more about healthy eating, be more likely to eat the foods they chose and develop a sense of ownership.
Look for sectioned or bento-style lunch boxes to help with portion control and offering a variety of foods.
Reusable yogurt tubes are cost effective and you can fill with a smoothie and freeze. (affiliate link used)
Include portion-controlled sweet stuff like chocolate kisses, chips or squares as an occasional surprise.
Healthy Lunch Ideas Printable Food List
Last week I shared with you my printable lunch list to teach kids to pack their own lunch. Hersey has a similar list but hers is a bit more extensive and includes serving size suggestions so I am sharing that with you too!
I know there's a lot of things I'm already doing from these tips, but several more I could improve on! Like those resealable yogurt tubes, or making extra at dinnertime!
What about you? How do you pack lunches in your house and what tips from this list will you try!?
This post is sponsored by Stop & Shop and I received a gift card in exchange for sharing this message. All opinions are my own.