We're a pretty low-tech family when it comes to the kids' activities. So when we do decide to have a movie night or let the babysitter take it easy with a DVD, we are very choosy.
One video series we adored with the boys as toddlers / preschoolers was the Signing Time DVDs. Years ago, I reviewed the Signing Time preschool set and the Potty Time DVD. Created by Rachel Coleman and Two Little Hands productions, both of these help young children learn important ASL signs to help them communicate.
I met Rachel at a blogger event this past February, and she is just the sweetest, kindest lady, with a heart for helping children fall in love with sign language and learning. Her original series was born out of a desire to teach her deaf daughter's family and friends how to communicate with her. Signing Time became so much more, reaching hundreds of thousands of kids with exciting songs to help them easily learn new signs.
Now, Rachel is back with a new series for older kids: Rachel and the TreeSchoolers. Geared towards 2-8 year olds, the TreeSchoolers series focuses on more advanced signs for high-interest topics like the Solar System, and Science. Rachel gave me two DVDs to check out and share with you!
What's Rachel and the TreeSchoolers all about?
Much like the Signing Time series, Rachel and the TreeSchoolers includes a mix of real children and cartoon characters. This is one of my most favorite aspects of the show – I want my children to see other REAL children interacting with knowledge in a real world. Love this! (The cartoon characters are sweet too!).
With Rachel as the teacher (think Mary Poppins meets Mr. Rogers!), the characters solve a problem or explore a concept in each DVD. Rachel teaches sign language that relate to the core concepts. The signs are an additional aid to help children learn and remember the terms and ideas being introduced in the show.
We received the Solar System and Scientific Reasoning DVDs from Rachel, which are a perfect fit for our science-loving family. In the Solar System video, kids learn concepts about the planets, astronomy, and celestial bodies.
The Scientific Reasoning storyline follows Isaac Newt as he tries to complete his experiment. Kids will learn about gravity, density, and buoyancy, along with important properties of air, light, and water. Plus, they learn about the Scientific Reasoning Cycle.
Our boys love the cartoon animal characters, with their scientific and mathematical names: Issac Newt, Abigail Nightingale, Abacus Finch and more!
What kids learn in Rachel and the TreeSchoolers
When it comes to screen time, I want my kids engaged and learning, not just mindlessly staring. Rachel and the TreeSchoolers is the kind of video where kids are actively signing, dancing, and acting out concepts.
TreeSchoolers currently has nine DVDs in the series, and is available online. You can also view signing videos live streaming on their YouTube channel. PLUS: there's a FREE pdf downloadable activity sheet available for each episode!
Here's a list of their nine episodes:
Ep. 1: A Rainy Day
Ep. 2: Incredible Insects
Ep. 3: Plants and Flowers
Ep. 4: Awesome Animals
Ep. 5: The Amazing Human Body
Ep. 6 : Happy, Healthy Me
Ep. 7 : Scientific Reasoning
Ep. 8: Extraordinary Earth
Ep. 9: Our Solar System
Rachel and the TreeSchoolers shows are available 3 ways: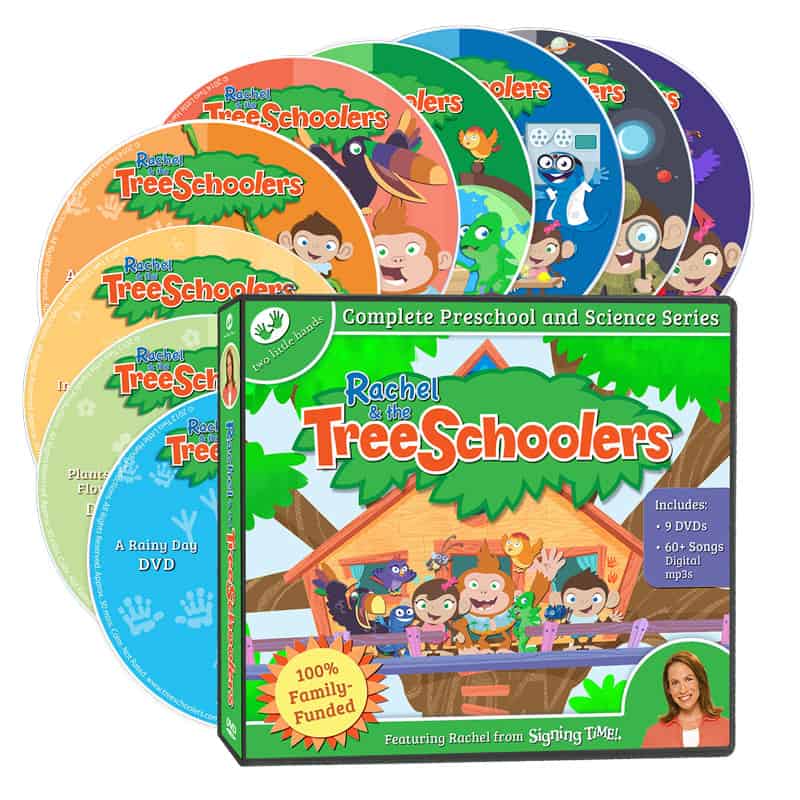 Individual Shows: Purchase either the digital version (watch on your device through Signing Time TV) or the physical DVD/CD set ($9.99-14.99)
Digital Edition: a 9-show set via SigningTime TV – you get the DVD album and mp3 music album too! $99
DVD set: all 9 shows come with both the DVD and a CD with just the music for listening in the car or at home. $129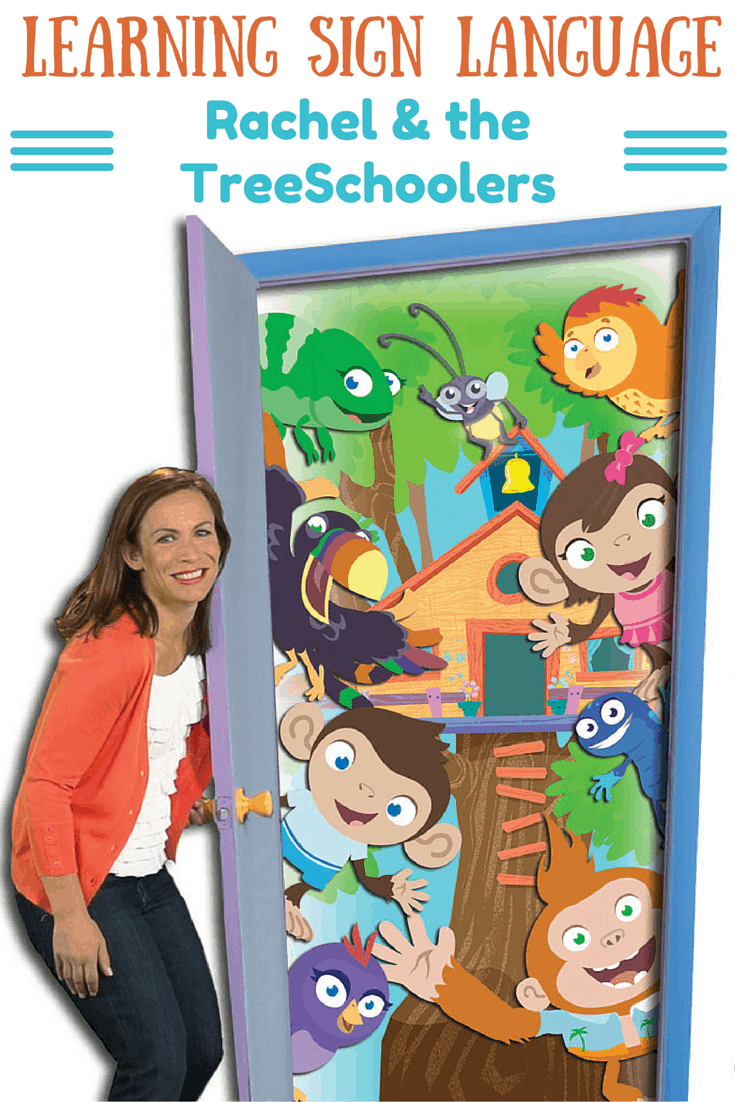 Huge thanks to Rachel Coleman for providing these DVDs in exchange for my honest review. All opinions are my own.