Okay, stop. On a Monday morning I'm throwing out words like Onomatopoeia? Oh yeah, because today, we're going to get your kids exploring poetry with onomatopoeia! Say it with me: ON-oh-MAH-no-PEE-ah! (yes, the "t" is pronounced very much in the back of the throat so it sounds more like a muted "n" sound)
Exploring poetry with Onomatopoeia!
Onomatopoeia is a huge – and often unpronouncible – word that means: words that imitate or suggest the source of the sound being described.
For example:
Choo-choo imitates the sound of a train.
Beep imitates the sound of a car horn.
Moo imitates the sound a cow makes.
Whirr suggests the sound of a fan.
And so on. Although it can be a fine line, try not to confuse Onomatopoeia words with a word that just states the fact a sound was made. As in, "laugh" – sure, a laugh IS a sound, but the words that imitate the SOUND of laughing are, "ha ha ha!"
Many times onomatopoeia words are completely made up, like spelling out a scraping noise as "sccrrettt."
Other times people have used the sound word so much, it's become an "actual word," as in the case of animal noises like "cluck," "peep," and "meow."
Cartoons and comics are a great place to find examples of onomatopoeia with words like "Kaboom, Blam, Boom!"
I love sound-play with my toddler because it's so easy for kids, you can do it anywhere, and kids loooooove to make up silly sounds.
Onomatopoeia Activities
Try these onomatopoeia activities with your child to get them excited about playing around with words and the sounds they make.
Bring illustrations in picture books to life:
As you look at picture book, take advantage of the photos / illustrations to ask your child what sound each object makes:
guitars strum
drums parum-parum or dum-DUM
a toaster dings
an alarm clock brrrrrrings!
Play sound games in the car!
As you drive, make the sound of something you drive by, and see if your child can find the object:
beep, honk, vroom, vroom!
Listen for nature sounds
Take a nature walk, specifically listening for things that make sounds – once you get into the woods a bit, do a "quick quiet" – 30 seconds of stillness so the sounds of the forest really stand out:
rustle, shhh, crack, sccrrrch
Make your own sounds with household objects
Play with kitchen tools that make different kinds of sounds – clink, bang, ding, bam
Create a sound poem
Create a spontaneous silly sound poem. Try a farm poem, a construction site poem, or a sitting by a stream poem – all these locations are full of sounds.
Older children may be able to rhyme sounds as well, which adds another layer to their poem.
Sind children's songs!
So many kids songs make use of onomatopoeia for humorous effect! "Old MacDonald Had a Farm" is a classic! "Wheels on the Bus" has a few examples as well.
Make a visual of their sound creations!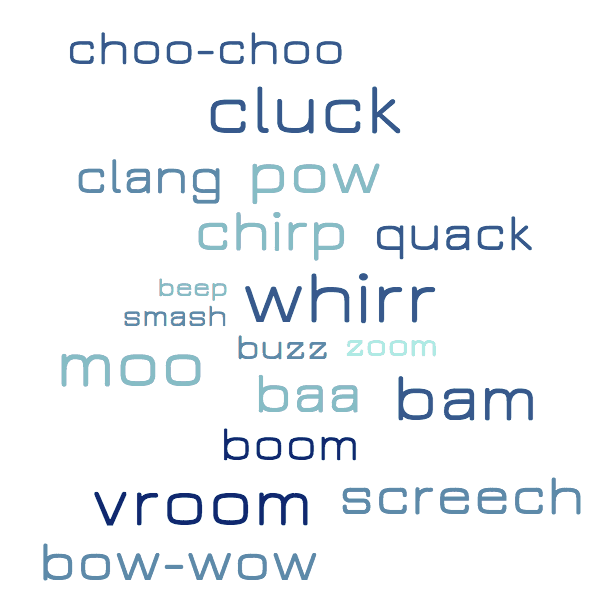 Create a word cloud like the one above to print or share using Word It Out! This could be a "published" piece for their writing portolfio, or maybe frame and hang it up as wall art!
Poetry is highly auditory. Its musical language is intended for reading out loud and listening to! Playing with sounds teaches children to use one of their five senses to explore and understand the world!
Celebrate poetry and onomatopoeia this week, by trying one or more of these onomatopoeia activities with your kids!
How else would you use sounds in word-play games for children?
Shop for onomatopoeia books & gear!
Tap Tap Boom Boom
Squeak, Rumble, Whomp! Whomp! Whomp!: A Sonic Adventure
KA-BOOM!: A Dictionary of Comic Book Words, Symbols & Onomatopoeia
A Mouthful of Onomatopoeia (Words I Know)
Noisy Night
Barnyard Banter
Snow Sounds: An Onomatopoeic Story
The Umbrella
Boing!: A Very Noisy ABC
4 Comic Book Saying Words Pillow Covers
Pow! Bam! Kapow! Comic Book Sound Effect T-Shirt
Onomatopoeias: Difficult to Say. Fun to Read!
Funny Onomatopoeia T-Shirt
POW Comic book onomatopoeia Bookmark
You may also enjoy these poetry articles:
We are a participant in the Amazon Services LLC Associates Program, an affiliate advertising program designed to provide a means for us to earn fees by linking to Amazon.com and affiliated sites. We may earn from qualifying purchases