When I said poetry, did you wrinkle your nose? Unfortunately, many people grow up with a distaste for poetry, because it wasn't introduced to them in a positive way. April is National Poetry Month, so here are seven ways to share poetry with children:
7 Ways to Share Poetry with Children
Poetry helps children learn, and children actually adore the rhythm and rhyme of poetic verse.
Fill a Basket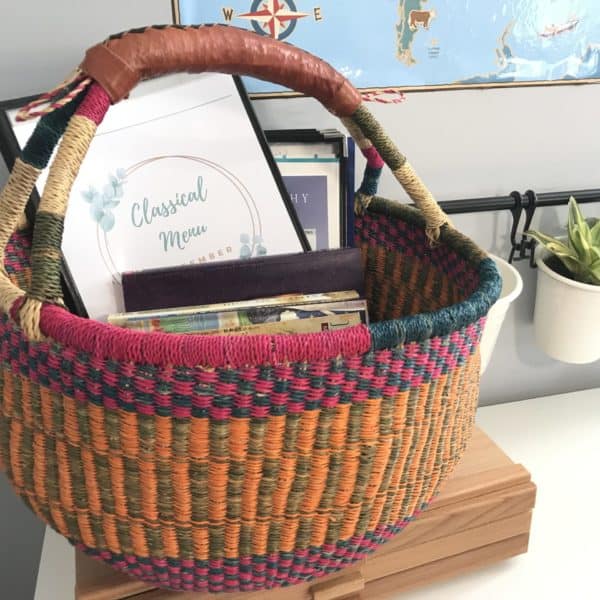 Whether by the couch or bedside (or even on the back of the toilet), keep a basket of poetry books handy – if you don't have poetry OUT, you won't read it! Throw in a book for yourself too! Here's a list of my favorite poetry books for children to get started!
Something else you can include in your reading or morning basket are these Classical Morning Menus filled with beautiful art and literature content for a month-long study. Each month a new poem is introduced for reading, study, and memorization.
Post a Poem
Find a hand-lettered version on Etsy, or create a digital image and frame it. Hang a poem over your kitchen sink, or by your workstation. Even in the car! It doesn't have to be a long poem, or even a full poem – just having a visual poetry example around the house will inspire you and your children to enjoy poetry more often.
Keep a Poem in your Pocket to share with children
National Poem in your Pocket Day is April 26, and it's a fun way to enjoy and celebrate poetry. Plus, it's a community event where we can share our favorite poems with others. It's simple, just keep a copy of any poem in your pocket all day – take it out and read it or share it with people you meet! Spread the poetry love! Here's a list of ways you can celebrate Poem in your Pocket Day, plus grab a free printable!
Attend a Poetry Reading
I remember attending a local poetry reading at the Hillstead Museum Sunken Gardens – lying on the lawn, watching the sun set and listening to local authors read their poetry was so relaxing! Libraries often have events like this (for adults and kids!).
Or create your own neighborhood, homeschool, or school group event. You could even have a poetry tea time event at home with your family or over Zoom with friends!
Record a poem to share with kids
Create an audio recording or video of you reading a selection of poetry, or have your children read/record a sampling of poetry. Burn it to a CD, share on social media, or via email with friends and family. Plus, now you can listen to your own voices reciting poetry in the car or around the house!
Read Poetry Out Loud
Pick a specific time of day or task to read-aloud poetry to your kids. Perhaps they can do a small task like folding towels, or coloring while you read. Sometimes children need gentle exposure to poetry – they might not SIT through a poem like they would through a story, so try to work it into the background!
Poetry Tea Time is a lovely practice to begin in your family – whether you homeschool or not. You can use this read-aloud tea time as a treat at the end of the week, for an afternoon wind-down, or as a party-time after a unit study!
We love listening to Andrew Pudewa's Poetry Memorization CDs, which have a fine selection of fun and serious poetry.
Pick a Theme to Keep Kids' Interest
Find poetry books on a topic your children already enjoy reading about – if they love dogs, read poems about dogs! My favorite is Sharon Creech's Love That Dog verse novel! Or if you're taking a trip, find poetry relating to your vacation – since we love to camp, I love reading Kristen O'Connell George's Toasting Marshmallows.
One time we even read aloud a bunch of insect poetry for my bug-loving boys!
There are many ways we can share poetry with children. We started reading rhymes and poems to our boys when they were babies. If we wait until kids get to the upper elementary or middle school and "force" the study of poetry on them, because "that's what's in the curriculum," poetry will seem arbitrary. Instead, weave poetry into the fabric of daily life in small ways, and enjoying poetry will come naturally.
How would you include poetry in your daily life? Will you participate in Poem in your Pocket Day?
You may also enjoy these poetry articles: