Our youngest turned ten this summer. It's hard to believe that both boys are in double digits now! For his birthday party, he requested a Lego Ninjago birthday party theme, and I was happy to come up with ideas.
Truth be told, this was very easy to do for two reasons.
Our oldest had a Green Ninja / Ninjago themed party four years ago. (It started out as simply ninja, but that is right around when they discovered the Lego Ninjago cartoon, so it morphed into Ninjago!). Unfortunately, for some reason, I only took photos with my phone at this party – or the other camera photos got lost, so the green ninja party photos are not the best quality.
Ninjago is their favorite Lego theme, so they had PLENTY of Lego sets to help decorate the house with (and give me decor ideas!)
I never did get around to blogging my oldest's green ninja birthday party theme. So I will combine my ninja party planning ideas from both parties into this one post. Then you'll have a range of ideas for your own party planning!
Lego Ninjago Birthday Party Decor
Ninjago colors are the easiest party colors ever! Red, White, and Black! So many Asian-inspired products use the same colors, and so many other holidays (Christmas, Valentine's, 4th of July) use red, making red my favorite party color to pick, because you can generally reuse so many items for other parties!
I hung an Asian font printed birthday banner down the walls (or frame a doorway). The banner I have does not seem to be available, but there are others online. I like mine best, personally, because it uses the rice paper screen design.
For the Red Ninja themed party the second time around, I created a paper name banner with a similar font.
Ninja face balloons were a hit at the first party, but I only had a few left for this recent party so I just put a few around.
I hung red and white and brown paper lanterns from the ceiling to frame the scene.
I ended up with a large blank wall space, due to mis-measuring the name banner. Necessity is always the mother of my best last-minute DIY ideas. I ran to the dollar store and for $5, created this foam board rice paper screen to fill the space and make a nice background.
To make this, you will need: 2 foam boards, 3 jumbo black permanent markers with the chisel tip, and black tape. Also from home, you will use scissors, a yardstick, pencil, and an exacto knife.
Use red tablecloths and some bamboo or wooden placemats or cutting boards to add to the theme. For those who dare to try, have sets of decorative chopsticks available!
Lego Ninjago Party T-shirts
I created party t-shirts for the first lego party using the same Lego Ninja template as the cake. I appliquéd all the pieces onto inexpensive t-shirts from Wal-mart. We each chose the color of our favorite Ninjago character. (At the time, our youngest loved Jay, but for his own party, he chose Kai).
Lego Ninjago Birthday Party Cake
For the Green Ninja Lego Ninjago birthday party cake, I printed and laminated a pair of Lego Ninja eyes from a template I found online. Then I frosted a 2-layer round cake and laid the laminated eyes on top. Finally, I gently pressed green sprinkles into the frosting to make a ninja head cake. It did look slightly "Teenage Mutant Ninja Turtle" but….we knew it was Lloyd!
For the Red Ninja birthday party cake, we took a different tack. I frosted a 2-layer cake (gluten free for this kiddo!), and pressed red sprinkles into the top. My son received a Lego Ninjago Tournament of Elements set for his birthday. After building it, I put a piece of clear plastic sheet underneath (cut around the shape of the set) with sticky tack. I swiped a dab of frosting on the underside, and pressed it onto the top of the cake. Voila! Ninjago!
Lego Ninjago Birthday Party Food
Since I am combining party ideas, I'll just list the foods we had between the two parties!
Sweet puffed rice snacks
grapes and strawberries in a bowl placed to look like a ninja face (admittedly, this looked more TMNT than Ninjago).
frozen wontons
frozen spring roll appetizers
grilled teriyaki chicken and pineapple over rice
Asian chopped salad
fortune cookies
Ninja cutout cookies (get the cookie cutter set!)
Spinjitzu donut holes – cut donut holes in half and place a gummy bear in the middle. Silly, but cute!
Shop for your Lego Ninjago Birthday Party!
Find so many helpful tools for more Lego Ninjago Birthday Party Ideas on Amazon! Most of these I mentioned in this post, but I found a few other cool ideas to share too! Please always read quantity and materials descriptions before purchasing – sometimes vendors change their product listings, and it's not the exact one I may have purchased.
LEGO NINJAGO Legacy Tournament of Elements
Bamboo Lane Organic Brown Rich Crunchy Rice Rollers 16- 2 Packs
Gefen Chow Mein Fine Noodles Gluten Free
Fun Express Ninja Sword
100 Pairs Reusable Bamboo Chopsticks
9 Pieces Japanese Paper Lanterns
Fun Express Ninja Warriors 11 in. Latex Balloons 24 Pack
Betallic Ninja 11
Vision Licensed Ninja 12 Balloons
LEGO Ninjago Little Boys Don't Mess with The Ninja's T-Shirt
LEGO Kids' Ninjago The Legendary Ninja
LEGO Ninjago Boys' Don't Mess with The Ninja's T-Shirt, 10/12
2FT Red Color Ninja Pinata
Kids Ninja Felt Masks for Birthday Parties,
Pre-Strung Ninja Warrior Birthday Banner,
Bamboo Slats Placemat with Fabric Border
Need more party planning ideas? Get the e-book!
You can read about most of our themed birthday party ideas in separate blog posts! Start here.
But if you really want help planning your next party, I have a better way. Yes, I have collected nearly all my birthday party planning ideas into a handy e-book to inspire you! Because I DIY my birthday parties with a mix of store-bought and created decor, I call this book Do-able Yourself Birthday Party Ideas.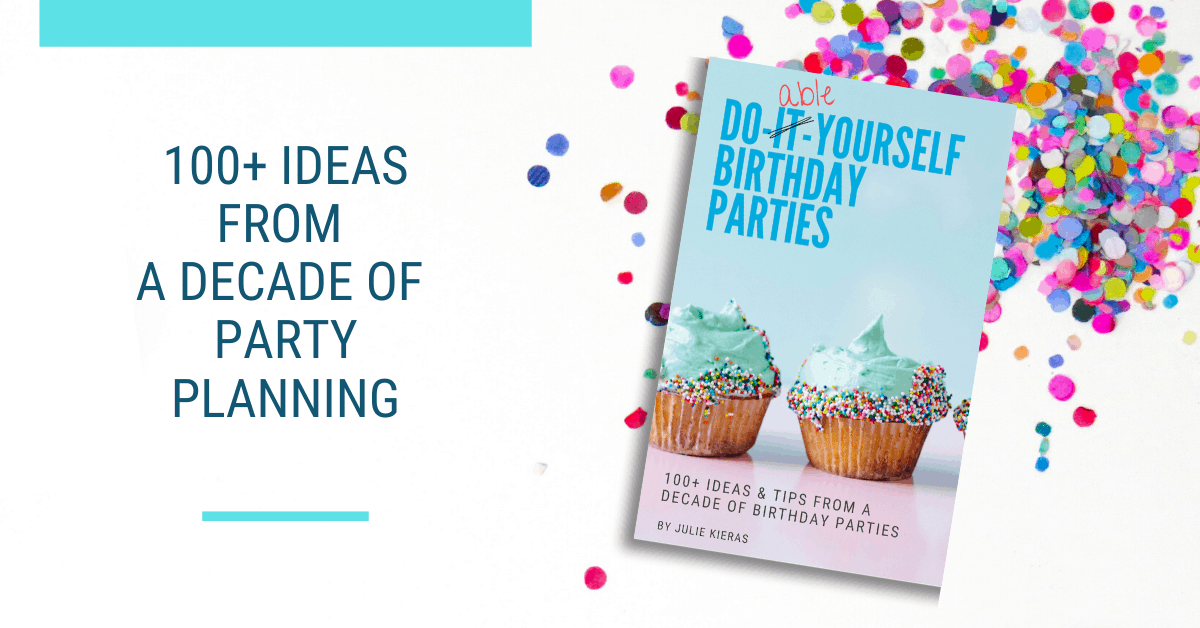 You can DO a birthday party by yourself – sometimes it takes a little help from inexpensive pre-made decor, and other times, you can whip together some personalized party items!
You'll find party decor, cake ideas, games, themed t-shirt ideas, and DIY crafts you can easily create to enhance your party theme. Plus, I've added printable planner worksheets and bunting/banner templates to help you out!