I love when I find a project that is fast and easy and doesn't turn into a Pinterest-fail! If you can sew even a simple straight line, you can definitely make this DIY cornered tablecloth tutorial in under an hour! I used a sewing machine – you could hand-stitch, if you needed to, and I'm guessing that might take about two-hours).
This project came about because the lovely wooden table my son received as a gift was getting a workout from their constant crafts and building projects. I needed a way to protect the table top from crayons, glue, and liquids.
Putting a loose tablecloth over the top wouldn't work as my children kept shuffling it off the table when they colored or created. So I needed something "fitted" to stay on the table whilethey worked.
I did a trial run with an old vinyl tablecloth that I cut down. It's a great way to upcycle an old picnic tablecloth. After seeing how easy it was to sew this cornered tablecloth, I decided to splurge on some pirate printed PUL material (the same used for cloth diapers!) and make something more fun for the boys. Plus the print hides the random crayon markings!
DIY Cornered Tablecloth Tutorial

Materials needed:
Sewing machine
Scissors
Thread
Straight pins
Table (you'll need the table you'll be covering to be handy for measuring)
Material – a waterproof material works best for small children. For length of fabric, it will depend on your table. I recommend measuring the table and adding 20 inches to the length and width of the table (so you get 10 inches margin on all 4 sides).
Directions: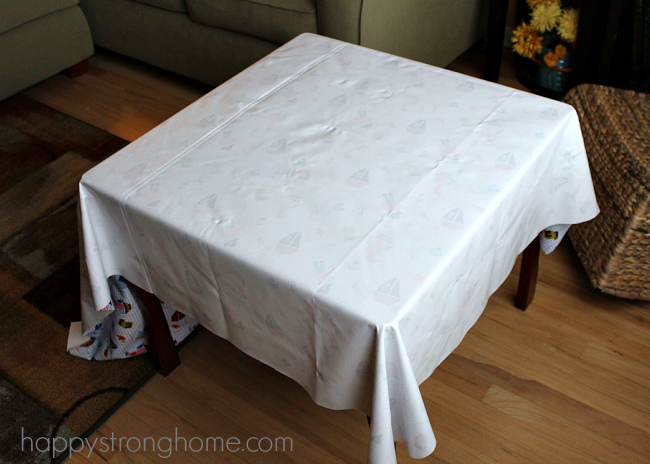 1. Lay your fabric right side DOWN (that is, inside out!) onto the table you wish to cover.
2. Trim the fabric so there's about ten inches overhanging all four edges evenly.
3. Without moving the tablecloth (you may wish to set a heavy book on top to keep it still), pin the fabric at each corner to make "wings" sticking out from each corner. Pin both at the very corner edge and all the way down the table leg, making sure you don't slope inward if your table legs are recessed.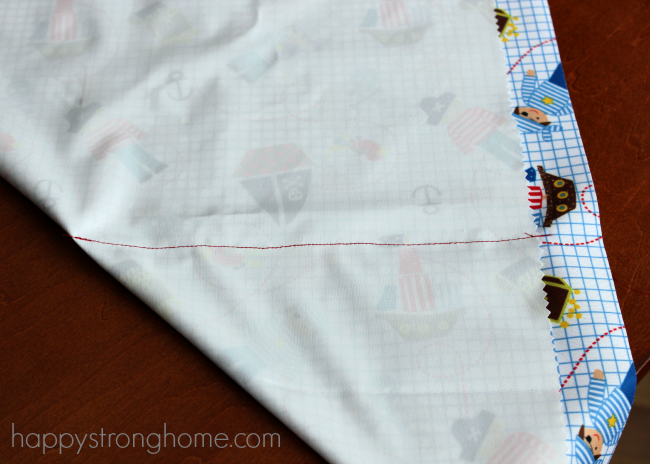 4. Sew a straight stitch down each corner "wing." Trim the "wing" off to leave about a 1/2 inch edge. You could turn this down for a flatter seam, or if you have a serger that won't be an issue. I just left mine!
5. Once you have sewn each corner, flip the tablecloth to the right side, and place over your table, making sure it fits snugly and without puckers. If you have pinned correctly, you should not have to redo this part – both my tablecloths fit correctly the first time – I only tell you that to say that it should be that easy!
6. Fit whatever chairs will be at the table under the table. You'll want to hem the tablecloth edge up to have a few inches above the chairs so that little legs won't get caught on the tablecloth. Measure how many inches down from the table top this will be. For our children's table, it was about 7 inches.
7. Flip the tablecloth back inside out and put on the table. Starting at the corners, measure down to where you want your hem to be (mine was 7 inches) and pin fabric edge up and pin at each corner. Then, holding two corners, flip the fabric up so you get a straight line across from corner to corner, and pin that down. This is the easiest way I'v found to get a straight edge from one corner to the next. Repeat around all four sides of the table. I only folded my fabric up once, leaving a raw edge, but you could certainly fold twice for a finished edge.
8. Sew the hem and trim any excess fabric down to 1/4″ from the seam. You may choose to use a straight stitch or a more decorate and secure zig zag stitch.
Put your tablecloth on the table and enjoy! Your kids are going to love it!
Add this DIY Cornered Tablecloth Project to your Sewing board on Pinterest!
Where to get your fabric!?
Here's a tip – use an "all-over" print, so that if your material pulls a bit and isn't quite even, you won't see the discrepancy. Stripes and lined prints will show any error immediately and it'll forever bug ya! I found some great PUL fabric by the yard on Amazon.com and also some pretty square vinyl tablecloths. Here's just a sampling of the fun prints I found!
Please let me know if you try this tutorial out – I'd love to see a photo! If you're looking for more great ideas to "sew or not to sew" check out my sewing project Pinterest board!
More Easy Craft Projects:
Affiliate links have been used in this post. We are a participant in the Amazon Services LLC Associates Program, an affiliate advertising program designed to provide a means for us to earn fees by linking to Amazon.com and affiliated sites.