When it comes to throwing birthday parties, there are so many options. Most of the time. But in our current world situation as I write, most families are having to change plans entirely! I grieve with you the loss of plans made. However, I encourage you, that you can still make this day a blast! I've collected these fun ways to throw a great birthday party at home to help you through this time! (Giveaway at the end of this post!)
Turn our Can't into Can-do!
We find ourselves in a very unique situation where we…
can't go out to a party place,
can't invite people into our homes, and
can't shop easily for supplies.
Yes, these things are all true. But… we should focus on what IS possible instead of what's not. Let's turn those can't statements into CAN-dos! Because we…
can make our home the best place to be,
can invite all the fun and joy we want into the day, and
can shop our home for simple party decor and surprises!
We can make this the most memorable birthday ever!
"Remember the birthday when…" is what your kids will say of this year's party. (Psst – I think many people can simply postpone the fun for a bit, but still we should celebrate our children on the day!)
Throw a Great Birthday Party Without Leaving Home
Here's some ways to bring on the fun and throw a great birthday party without leaving home!
Wake Up Fun! The night before your child's birthday (or party day), decorate their door by taping up balloons, streamers, and posters to surprise them!
Birthday Breakfast. Start the day with Birthday cake! …or make "Confetti Pancakes" by adding sprinkles to the pancake batter. …Or put a candle on a muffin. Make every part of the day birthday-ish!
Play Cake Designer. Bake cupcakes and have a cake designing contest. The birthday child can judge which cake is the best and choose which one to eat! Take photos of all the mini cakes for memories!
Organize a Parade. Have family, party guests, or neighbors form a parade driving by your house on your child's big day. To make it longer just have people circle back. Or, reverse it and tell your friends and family you'll be driving your child by and they can hold up signs or decorate their doors for the birthday kid!
Virtual Photo Booth. Ask the people you would normally invite to dress up according to the theme and take a photo to share with the birthday child. Have your family dress up too and take photos!
GO BIGGER: If you ask for photos in advance, and have a decent printer, you could print them out large and put them around the room as "virtual guests!"
Birthday Gift Hunt. Spread out the gift-opening fun by hiding presents around the house and letting your child hunt for them. Give clues or not. Or, create an "Escape Room" activity to gain access to the gift!
Birthday Card Blitz. Ask friends and family on social media if they'd like to draw a picture or send a card to your child. They can private/direct message you for the address. Then your child will be WOWed by all the cards and fun snail mail surprises! Try to do this a bit in advance so cards come in by your child's birthday.
Get a FREE Printable Birthday Party at Home Idea List
Download this FREE printable "Birthday Party at Home" Idea Sheet by clicking here, or clicking the image. You can put this into your planner notebook to help you as you plan for new circumstances.
Simple Decor Ideas for a Birthday Party at Home
One of my favorite things to do for my kids is decorate the house for them. I decorate their room or doorway, the kitchen, their chair or other areas around the house. Here are a few ideas you might have around the house, avoiding the need to go to the store in most cases.
Ask friends/family/neighbors to share leftover party supplies! Most of us have half a bag of balloons, extra rolls of streamers, or candles, party hats and more from previous parties (I have a party box I save and reuse as much as possible!)
Balloons are something many of us might have on hand from previous parties. If not, check with some neighbors or family members to see if they leftovers they can drop on your doorstep. And if no balloons, there are plenty of other ways to decorate!
Streamers are always fun, but might not be something you have on hand. Here are some alternatives to streamers:
Paper chains can be made with any type of paper – printer, construction, scrapbook, old mail pieces, magazine pages. If you're needing color, try making some DIY marbled paper and then cutting it into strips to make colorful chains. Simply cut strips that are 1-2″ wide by 8-10″ long. Play around to see what size works best for you.
If you have a cheap plastic tablecloth, tape it over a doorway, then cut strips going up from the bottom to make a fringe curtain. So fun!
Use fabric strips to create a garland to swoop around doorways, tables, or chairs. Not a fabric hoarder? Root around to see if you have any old clothing or tablecloth you were planning to donate and cut it into strips (it's for a good cause!).
Decorate windows with window paint markers. Or make your own paint using washable paint with a drop of dish soap in the mix so it wipes away easily later on.
Write messages to your child in sidewalk chalk on the driveway or sidewalk!
Create a photo garland with some twine/string/ribbon and clothespins/paperclips/tape. If you have prints, this is really handy. Or print some out yourself. If you can get out to the store, it may also be possible to send some photos to your local pharmacy store to pickup same day if they are still operating their print areas.
If you have no photos or availability to get photos, why not write down some favorite memories from each year of their life and string these into a garland. I find kids LOVE to see themselves through the years. What better way to see themselves and feel SEEN by you than to read what you've observed about them!
Make Confetti. This is for the brave-hearted who don't mind a bit of mess. Chop a bunch of colored paper up for confetti! You can sprinkle this on the table, pack into a balloon to pop, or toss at the party kid for a fun time! Gift tissue paper actually works really well for this, because you can chop it into 1″ larger pieces and they will float around a bit longer than other paper.
More birthday party at home ideas!
Check out my birthday party themes for more ideas on homemade, simple decor and fun for kids. We have always done birthday parties at home with just close family, so I have a decade of experience to share with you!
I hope these tips help you make the best of a day that seems ruined. We as parents have to lead the way in making the best of bad situations. We can still rescue this day from going down in flames (unless, of course, the flames we're talking about are birthday candle flames! Then light those up!).
I wish your child the happiest of birthdays this year. It may not be what was expected. But it will be memorable and happy because YOU showed up and made it so!
Please feel free to share your ideas with me and I will add it to the list!
Get more birthday party planning ideas in my Ebook!
Some of these ideas come from fellow writers and readers who have been sharing with me the fun things they've done in their own party planning. Other ideas are modified from my own party planning experiences. I've put it all into the ebook: DO-Able Yourself DIY Birthday Parties! My book also includes how-to decor ideas, cake decorating, and party planning printable worksheets to help you.
Find out more about my birthday party planning book at the link above, or click here to purchase.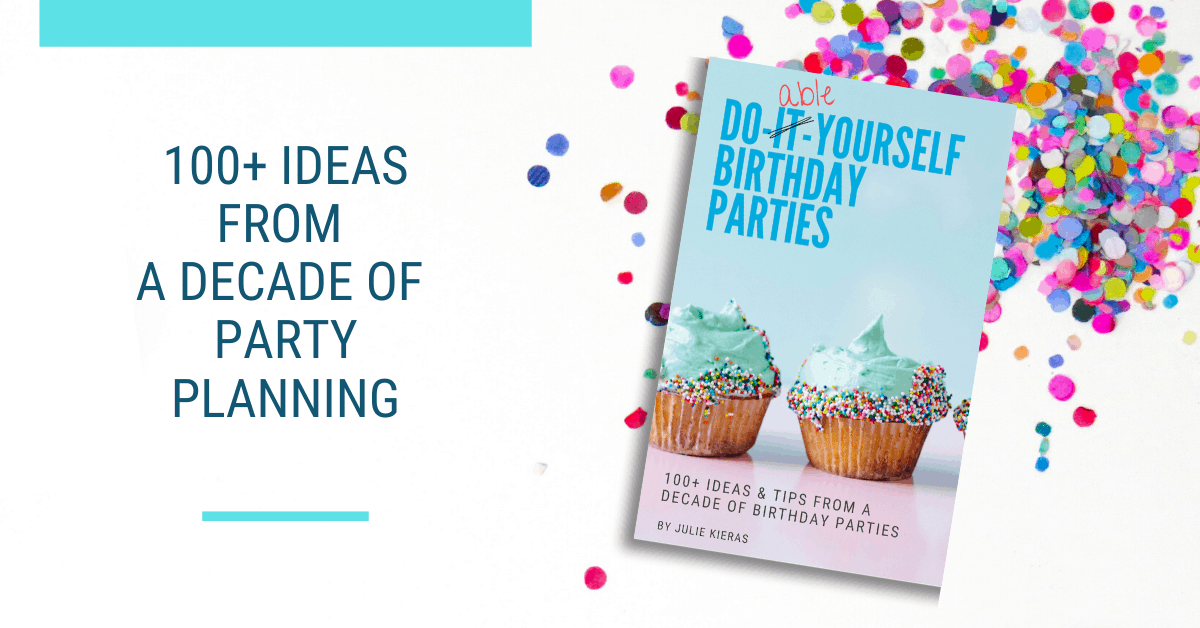 PIN THIS!
WIN a Wooden Birthday Cake Toy from LeToy Van!
Family-owned toymaker Le Toy Van creates classic wooden toys that spark imagination without the use of technology. This wooden birthday cake toy is the perfect play food item to help your child enjoy their birthday – whenever they want to!
Plus, you'll be happy to know, Le Toy Van uses sustainable wood, primarily Rubberwood and they pledge to replant for every tree used. They also use water-based non-toxic paints that are kinder to the environment on all toys.
One lucky reader will win this LeToy Van wooden birthday cake toy! Just enter in the form below!
a Rafflecopter giveaway

Giveaway prize sponsored by LaToy Van via KidStuffPR. I did not receive any compensation for this post. All opinions are my own.
As an Amazon Associate I earn from qualifying purchases. We are a participant in the Amazon Services LLC Associates Program, an affiliate advertising program designed to provide a means for us to earn fees by linking to Amazon.com and affiliated sites.