Little brains are ready for a break (and mama brains too!). Warm weather, blossoming gardens, and beach waves beckon us to play. And play we shall this summer! Yet, heading into summer, we don't want to lose all the great gains we've accomplished through the year. I keep a short list (and an activity basket!) full of summer learning at home ideas for my boys. We dip in and out of these throughout the summer months. I hope they help you too!
Sponsored post.
Summer Learning at Home Ideas
Art keeps kids learning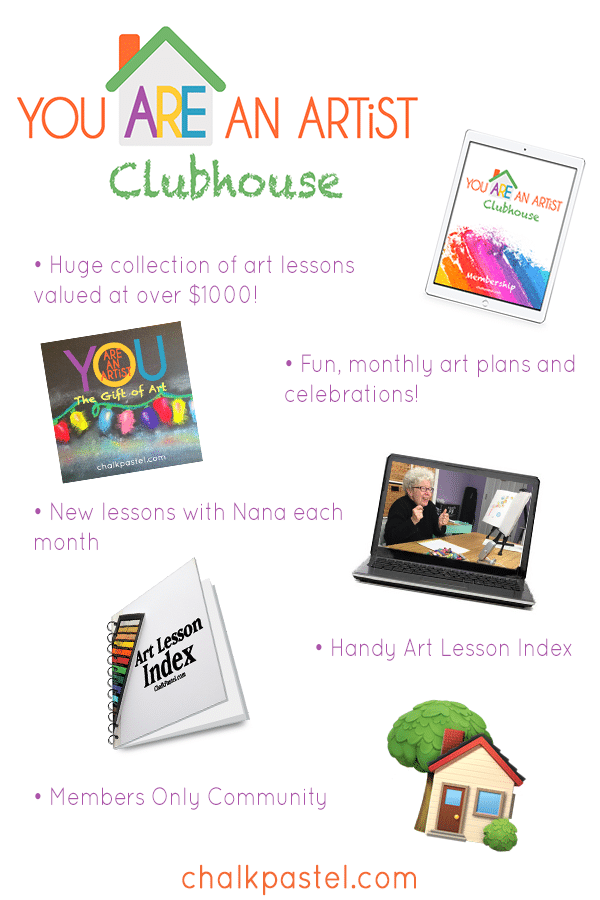 Developing fine motor skills, improving color concepts, and letting kids express themselves are just a few important learning benefits of art activities.

Our family loves creating art with ChalkPastel.com Lessons. These video tutorials have helped my boys illustrate their astronomy learning, express their love of Star Wars and other movies and books, and develop their nature journals. Hundreds of quick tutorials with Nana will show your child that just as Nana always says, "You ARE an Artist!" Read my complete review of ChalkPastel.com lessons here.
Let your kids create a coat of arms with this free printable!
Get outdoors and learn!
This gardening STEM activity teaches kids about measurements while the get to grow plants and enjoy garden time!
The bees are buzzing! Try this honey tasting activity with your kids for sensory fun! Or download the 5 FREE honeybee lesson plans from Nature Nates (I wrote the honey-tasting one!).
My bird study unit plan is chock full of ideas for gentle learning. Poetry, crafts, songs, and bird watching ideas abound – like making a nesting bag for birds and more hands-on ideas. You don't have to use these as formal lessons, but can tuck the activities in throughout the summer! It's a free download right now!
Summer is perfect for nature study! Here's what you need for an enjoyable kids hike or nature walk!
Learn Through Play!
Summer is a great time to learn to play Chess! Parents, you don't have to know how to play yourself to teach your whole family. Story Time Chess makes it fun and easy with their story-based design. Using a chess teaching method that has been perfected for over a decade, kids will LOVE learning chess through fun stories and exercises. Learning chess helps with: academic performance, improving test scores, arithmetic skills, critical thinking and boosting emotional intelligence.
Each of the playing pieces comes with a whimsical name and backstory that teaches how to use it for game strategy. Their site, storytimechess.com, explains, "children have an astounding ability to retain stories down to the last detail. Telling a child an abstract rule may only confuse them because they have nothing to connect with. Instead of telling children what something is, Story Time Chess is perfect for showing the rules of the chess – through stories."
Board games are wonderful ideas for summer learning. Especially on a rainy day or later in the evenings. Here's some of our favorite board games that boost brain power.
Puzzles are a great play idea too!
Are you often too tired to think of playful ideas for your active preschooler? You don't have to be a homeschool family to LOVE the playful ideas from Homegrown Learners – their A Year of Playing Skillfully curriculum for year-round fun also has a Summer Curriculum available! Or you can purchase some of their play tools to create your own activities. I loved this book when my kids were 3-8, and I still use some of the ideas from time to time now that my boys are older. You can read my full review of their preschool curriculum here.
Science kits are a fun rainy day idea in summer. We have loved the Steve Spangler science kits!
Throw some junk in a box and create a tinker box for kid inventors!
Here's some more rainy day play ideas!
And an exciting outdoor play idea list.
Grow literacy skills over the summer
Summer is a great time to build literacy. As a former Language Arts teacher, I put together some literacy tips for young readers.
Keep reading aloud to your kids! If you have preschoolers, this Chicka Chicka Boom Boom activity is perfect for keeping up with alphabet / letter recognition!
Develop map skills with a compass reading activity.
Just in time for Memorial Day and Fourth of July – explore patriotic symbols of America with my FREE downloadable e-book!
Over the summer, let kids to connect with a pen pal. Here's some kid-friendly letter writing ideas.
When libraries are open, here's how to make the best use of library resources for kids.
Take the summer months to enjoy poetry – visit my Poetry + Kids series for 7 Ways to Share Poetry with Children – fun ideas you can do throughout the summer.
Let Summer Learning at Home Happen Organically
If it helps to have a summer schedule for your kids, then absolutely do that. But you don't have to hold to a strict schedule or checklist for summer learning. Just keep activities and resources handy to include throughout the weeks. Here's a few ideas:
Try to do something from each category once a week to give kids variety.
Put summer learning ideas on popsicle sticks and let kids draw one a day (or a week! Whatever you have time for!).
Share these ideas with your kids and have each child pick one or two they really want to do.
Make a bucket list of ideas and try to get through as many as you can during the summer.
Fill a basket with supplies and let kids decide what to do.
Thanks to my sponsors for providing products and services for this post. As an Amazon Associate, we earn from qualifying purchases. All opinions are my own.